The Intouchables
Release date: May 18, 2012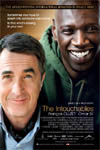 When Driss, an ex-con from the projects, is hired to take care of an eccentric French aristocrat named Philippe, his newfound job quickly becomes an unpredictable adventure. Speeding a Maserati through Paris, seducing women and paragliding over the Alps is just the beginning, as Driss turns the often humorous world of upper-class Parisian society upside-down. As this unlikely duo overcome adversity of every flavor in this true story, they also shatter their preconceptions of love, life and each other.
Additional details
Genre: Drama
Runtime: 112 min
Directors: Olivier Nakache,Éric Toledano
Studio: Alliance Films
Producers: Nicolas Duval-Adassovsky, Laurent Zeitoun, Yann Zenou
Screenplay: Olivier Nakache, Eric Toldedano
Cast: François Cluzet,Omar Sy,Anne Le Ny,Audrey Fleurot,Clotilde Mollet,Alba Gaïa Bellugi,Cyril Mendy,Christian Ameri,Marie-Laure Descoureaux,Grégoire Oestermann
A hit you can count on
Kim Foreman-Rhindress - Oct 24, 2016 / 2:52 pm
In this ground-breaking film, a man with autism not only leads a successful life as an accountant, but...