Beasts of the Southern Wild
Release date: July 13, 2012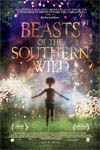 Six-year-old Hushpuppy lives with her father in a southern Delta community, but when he contracts a mysterious illness, her world begins to unravel. Her father has prepared her well, but with no one to protect her, she sets out on a quest in search of her mother.
The young girl's adventure takes a turn for the worse as temperatures rise and ice caps melt, causing prehistoric creatures, called Aurochs, to be unleashed.
Additional details
Genre: Drama
Runtime: 91 min
Director: Benh Zeitlin
Studio: Entertainment One
Producers: Dan Janvey, Josh Penn, Michael Gottwald
Screenplay: Lucy Alibar, Benh Zeitlin
Cast: Quvenzhané Wallis,Dwight Henry
Movie bogged down
Kim Foreman-Rhindress - Jul 26, 2016 / 8:47 pm
When a four-time Oscar nominated director does a Civil War drama starring one of today's hottest...