Ted
Release date: June 29, 2012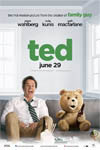 John Bennett's (Mark Wahlberg) Christmas miracle happened at the age of eight when he made a wish and his best (and only) childhood friend—his cherished teddy bear named Ted—came to life. Ted gains fame and is even interviewed by Johnny Carson on The Tonight Show.
Years later, John is an adult and he lives with his longtime girlfriend, Lori Collins and of course, Ted. Lori gets tired of Ted's filthy behaviour and when she comes home to find him with four prostitutes, she decides to finally put her foot down.
John loves Lori, so he asks Ted to find a job and get an apartment. Meanwhile, a creepy guy who has adored Ted since seeing him on television, wants Ted to join his family to be his son's teddy bear, but Ted wants nothing to do with them. He gets a job in a grocery store and falls for the trash-talking new casher, Tammi-Lynn. However, John continues to make up excuses and skips out on work just so that he can hang out with Ted. When Lori finds out how irresponsible John is being, she gives him one last ultimatum.
Additional details
Genre: Comedy
Runtime: 106 min
Director: Seth MacFarlane
Studio: Universal Pictures
Producers: Wellesley Wild, John Jacobs, Seth MacFarlane, Scott Stuber
Screenplay: Seth MacFarlane, Alec Sulkin, Wellesley Wild
Cast: Mark Wahlberg,Mila Kunis,Giovanni Ribisi,Joel McHale,Seth MacFarlane
The Circle spins its wheels
Kim Foreman-Rhindress - Sep 21, 2017 / 2:26 pm
Touted as a thriller, the film centres around a fictitious company known as The Circle, a "Facebook...