Madagascar 3: Europe's Most Wanted
Release date: June 8, 2012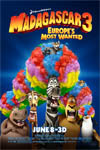 New York Zoo escapees Alex the Lion, Marty the Zebra, Melman the Giraffe and Gloria the Hippopotamus decide to go on a quest to return home in a scheme dreamed up by their crafty penguin and chimpanzee friends.
Unfortunately, the plan doesn't go quite as anticipated when they find themselves stranded in Monte Carlo. In order to escape a tenacious animal control captain, the group catches a ride with a rundown travelling circus. When they find out the circus is headed for America, they come up with an act so they can pose as part of the show.
Additional details
Genre: Family
Runtime: 95 min
Directors: Eric Darnell,Conrad Vernon
Studio: Paramount Pictures
Producers: Mireille Soria, Mark Swift
Screenplay: Noah Baumbach
Cast: Ben Stiller,Chris Rock,David Schwimmer,Jada Pinkett Smith,Sacha Baron Cohen,Cedric the Entertainer,Andy Richter,Frances McDormand,Bryan Cranston,Jessica Chastain,Martin Short
Moana is not a princess
Kim Foreman-Rhindress - Dec 10, 2016 / 9:59 pm
Based on neither fairy tale nor legend, Moana is only the second lead character of her kind in the entire...