Men in Black 3
Release date: May 25, 2012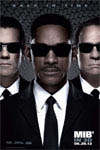 Agent J (Will Smith) and Agent K (Tommy Lee Jones) are assigned the task of monitoring extra-terrestrial activity on Earth. Things get strange when J can't find K, then finds out his friend has been dead for over 40 years. In an attempt to save young Agent K's (Josh Brolin) life, Agent J travels back in time to 1969 to stop his murder.
Additional details
Genre: Comedy
Runtime: 106 min
Director: Barry Sonnenfeld
Studio: Columbia Pictures
Producers: Walter F. Parkes, Laurie MacDonald
Screenplay: Etan Cohen
Cast: Will Smith,Tommy Lee Jones,Josh Brolin,Jemaine Clement,Michael Stuhlbarg,Alice Eve,Bill Hader,David Rasche,Emma Thompson,Nicole Scherzinger
Logan tells great story
Kim Foreman-Rhindress - Mar 29, 2017 / 7:53 pm
There is tremendous restraint and maturity in this current X-Men franchise release: in the acting, the...