Movie 43
Release date: January 25, 2013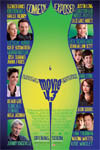 From the twisted minds of producers Peter Farrelly (Hall Pass, Shallow Hal) and Charles Wessler (There's Something About Mary, Dumb & Dumber), comes MOVIE 43—the outrageous new ensemble comedy starring some of the biggest names in Hollywood. MOVIE 43 is not for the easily-offended and contains jaw-dropping, sometimes shockingly disturbing, but always entertaining intertwined storylines you'll have to see to believe.
Additional details
Genre: Comedy
Runtime: 90 min
Directors: Steve Carr,Jonathan Van Tulleken,James Gunn,Peter Farrelly,Steven Brill,James Duffy,Patrik Forsberg,Will Graham,Griffin Dunne,Elizabeth Banks,Brett Ratner,Rusty Cundieff
Studio: Entertainment One
Producers: John Penotti, Peter Farrelly, Charles B. Wessler, Ryan Kavanaugh
Screenplay: Will Carlough, Tobias Carlson, Jacob Fleisher, Patrick Forsberg, Will Graham, James Gunn, Claes Kjellström, Jack Kujoda, Bill O'Malley, Matthew Portenoy, Greg Pritikin, Rocky Russo, Olle Sarri, Elizabeth Shapiro, Jeremy Sosenko, Jonathan Van Tulleken, Jo
Cast: Halle Berry,Kate Bosworth,Gerard Butler,Anna Faris,Richard Gere,Hugh Jackman,Johnny Knoxville,Christopher Mintz-Plasse,Liev Schreiber,Seann William Scott,Emma Stone,Naomi Watts,Kate Winslet
The Circle spins its wheels
Kim Foreman-Rhindress - Sep 21, 2017 / 6:04 pm
Touted as a thriller, the film centres around a fictitious company known as The Circle, a "Facebook...