Bullet to the Head
Release date: February 1, 2013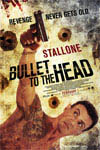 When their respective partners are viciously murdered, a New Orleans hitman (Sylvester Stallone) and a young Washington DC cop (Sung Kang) put aside their differences and combine their talents in order to bring down a common enemy.
This high stakes investigation takes the unlikely duo from the back alleys of New Orleans all the way to the city's most powerful and dangerous corridors. Together, the two plan to bring down anyone who stands in their way.
Based on Alexis Nolent's graphic novel "Du Plomb Dans la Tête."
Additional details
Genre: Action
Runtime: 91 min
Director: Walter Hill
Studio: Entertainment One
Producers: Joel Silver, Alexandra Milchan, Kevin King-Templeton, Miles Millar, Al Gough
Screenplay: Alessandro Camon
Cast: Sylvester Stallone,Sung Kang,Sarah Shahi,Jason Momoa,John Seda,Holt McCallany,Adewale Akinnuoye-Agbaje,Christian Slater
The Circle spins its wheels
Kim Foreman-Rhindress - Sep 19, 2017 / 8:21 am
Touted as a thriller, the film centres around a fictitious company known as The Circle, a "Facebook...