Campus Life - Kamloops
When Dr. Andrew Park published his counterterrorism research this summer, he had no idea how quickly it would become so relevant.
With his research team, Park, an assistant professor in the Department of Computer Science and an expert in virtual environments, has developed a modeling and simulation system that can anticipate not only which way crowds move during a terrorist attack, but also where to best place emergency responders to limit injury or loss of life.
Read: "A systematic approach to developing a computational framework for counter-terrorism and public safety," published in Social Networks, Terrorism and Counterterrorism. 
Park, a senior research fellow with the Simon Fraser University's Institute for Canadian Urban Research Studies, completed this research for the Canadian Network for Research on Terrorism, Security and Society. His interest in virtual environments dates back to graduate school where he used computing technology to map Vancouver's Downtown Eastside to see how people navigated the environment.
This latest study in counterterrorism began in 2014, and works by using the known realities of crowd behaviour during terrorist attacks. The two scenarios used for his simulation were the Boston Marathon bombing in 2013 and the 2013 Westgate Mall attacks in Nairobi, Kenya.
The latest attacks in Paris only show how vital these virtual crowd control technologies can be for training first responders.
"These days it's hard to predict where a terrorist attack will happen. In the past, terrorists have been known to target well-known landmarks and big stadiums, but when you see the Paris attacks, no one expects small restaurants to be the targets," he said, noting that the value of his virtual simulation tool is that it can constantly be fed new information to run a variety of scenarios.
"Whether it is an attack of bombs or biological weapons, we can run a simulation to see how people behave and develop a strategy. We can put emergency responders at strategic location so we can see how to evacuate crowds. We can see how long it will take and make a better strategic plan."
Even though he is using existing game technologies, the inputs are coming from social science studies, so Park and his team not only enter information about new locations, but they can also change the type of crowds.
"There are different types of crowds. There are sports crowds, then there are just bystanders. Our simulation reflects what is happening in the real world to make it as useful as possible."
Park recently returned from the IEEE International Conference on Data Mining in Atlantic City, NJ, where he presented his forthcoming research paper, "A Decision Support System for Crowd Control Using Agent-Based Modeling and Simulation." This research uses what Park calls SimCrowdControl, and simulates the 2011 Vancouver Stanley Cup Riot.
More information
Dr. Andrew Park
250-828-5053
[email protected]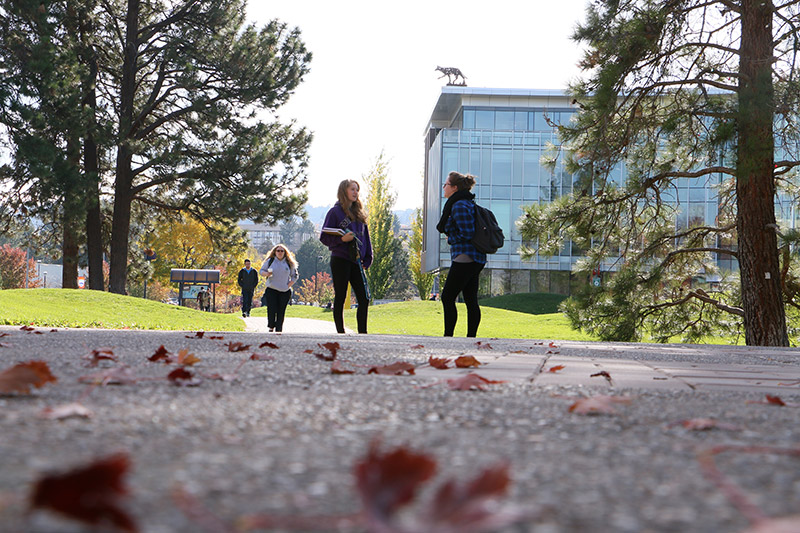 The thermometer's dropping. Deadlines approaching. 'Tis the season—end-of-term, that is. Here are a few ways to take a break and rejuvenate as the semester winds to a close.
Stress Free Zone
Exam anxiety? Writer's block? Take a break at the TRU Library's Stress-Free Zone (#SFZ) with board games, colouring, puzzles, Lego and healthy evening snacks. Runs Dec. 1–22 on the first floor of the House of Learning.
Just looking for peace and quiet? The Main and House of Learning libraries will be open for study until midnight, Dec. 9–21.
---
Music and theatre
Live music on campus continues with the choral class mini concert on Nov. 24, and the last Live at TRU! performance of the semester, Gordie MacKeeman and his Rhythm Boys Nov. 26.
Join the Pan African Club for Matters of the Heart, a night of poetry, music and humour Nov. 26. And don't miss the Actors Workshop Theatre production of The Mail Order Bride, Nov. 26 to 28 and Dec. 3 to 5.
See the Events Calendar for more things to do on campus.
---
Coffee time
Campus food venues change their hours or close for the holidays at varying times in December—here's the schedule. Hours of operation can also change with demand, so check Campus Dish for updates. All times are a.m. – p.m.
Trades Cafe (TT)
To Dec. 18: M-Th 7:30 – 2, Fri 7:30 – 1
Closed Dec. 19 – Jan. 3
Starbucks (OM)
To Dec. 6: M-Th 7:30 – 8, Fri 7:30 – 6, Sat 10:30 – 3, Sun 11 – 3:30
Dec. 7-20: M-Th 8 – 8, Fri 8 – 6, Sat-Sun 10:30 – 4
Dec. 21-22: 8 – 4, Dec. 23: 8 – 3
Closed Dec. 24 – Jan. 3
Upper Level Cafe (OM)
To Dec. 4: M-Th 8 – 2, Fri 8 – 1
Closed Dec. 5 – Jan. 3
The Deli at U&M (OM)
To Dec. 3: M-Th 8:30 – 6, Fri. Dec. 4: 8:30 – 2
Dec. 7-11: 10 – 2
Closed Dec. 12 – Jan. 3
Tim Hortons (HL)
To Dec. 20: M-Th 7:30 – 7, Fri. 7:30 – 5
Dec. 21-22: 8 – 4
Closed Dec. 23 – Jan. 3
Seattle's Best Coffee (IB)
To Dec. 4: M-Th 8 – 2:30, Fri. 8 – 1:30
Closed Dec. 5 – Jan. 3
Bean Me Up (S)
To Dec. 4: M-Th 8 – 2:30, Fri. 8 – 1:30
Closed Dec. 5 – Jan. 3
Heroes Pub (CAC)
To Dec. 4: M-Fri. 11:30 – 6
Dec. 7-18: M-Fri 11:30 – 4
Closed Dec. 19 – Jan. 3
Urban Market (CAC)
To Dec. 3: M-Th 9:30 – 4:30, Fri. Dec. 4: 9:30 – 2
Closed Dec. 5 – Jan. 3
Scratch Café (Culinary Arts Cafeteria)
To Dec. 10: Tu-Fri 10 – 2:30 (Don't miss roast turkey on Dec. 9!)
Closed Dec. 11 – Jan. 4
Common Grounds (Independent Centre)
To Dec. 22: M-Th 8 – 9, Fri 8 – 3:30
Closed Dec. 23 – Jan. 4
---
Give back
Various faculties and departments collect non-perishable foods, gift cards and other items for hampers for students, for the TRUSU Food Bank, Kamloops Food Bank, and other organizations. Check with your faculty or school for more info.
Law students will be raising funds again this year at the third annual TRU Law Santa Swimsuit Run Nov. 21.
If you're gift-giving this year, stop by the Education and Skills Training Program (ESTR) Retail Kiosk on Student Street Nov. 25 and 26. The kiosk has a great selection of locally-made gifts and provides experience and support to ESTR students.
Give back to the planet—bring your travel mug to TRU Sustainability's Mugs for Hugs event on Nov. 26, win prizes, and help keep an estimated 8,000 paper cups, lids and sleeves out of TRU's trash each day.
---
Read—for fun
Escape end-of-term stress with a great book. TRU Reads is the Library's leisure reading collection. Popular mysteries, thrillers, romance, science fiction, fantasy and non-fiction titles, available for borrowing for four weeks. Find the collection—and a cosy reading nook—on the third floor of the House of Learning.
Looking for something unusual to read or give? Check out this list of favourite books from TRU faculty and staff.
---
Holiday Break
Happy holidays! Campus closes at 4:30 p.m. on Wednesday, Dec. 23, reopening for the winter semester on Monday, Jan. 4, 2016.
Make sure you're prepared for the weather as we head into winter—sign up to receive TRU Alerts on your mobile device and be the first to hear if we have a snow day on campus.
More than 500 students shared in more than $525,000 during Thompson Rivers University's annual Foundation awards ceremony Nov. 19 in the TRU Gym.
In exact numbers, 516 students attended and shared in $525,667 representing 334 donor awards. Adding in those not able to attend or who had already received awards, the fall semester total was 602 students sharing in $729,000.
Fourth-year nursing student Amanda Turnbull spoke of how awards go a long way towards easing some financial stress.
"As a past award recipient, I know first hand what a difference receiving these funds makes," said Turnbull. "As a mother of two children it's difficult to work while going to school, receiving an award helps pay some expenses and helps to make ends meet."
Foundation chair David Paul applauded donors for their continued support of higher education and the profound difference their gifts make in the lives of people and communities.
"Thank you so much for believing in the importance of education and for helping students achieve their educational goals. I know the students will tell you what a difference your support makes to them," said Paul.
Turning his attention to the Foundation's staff and volunteers, he praised their tireless efforts in raising more than $3 million in the past year for students, buildings and programs. Over 33 years, the Foundation has built a student assistance endowment of $16.8 million.
To the sea of smiling student faces, he warmly said: "Congratulations and we hope receiving this award money will assist and motivate you to continue your educational journey."
Award highlights
Reginald Harold Broadbear Bursary—$10,000 to a student enrolled in a diploma or degree program leading to careers in the medical field, with preference given to students in Nursing or Respiratory Therapy programs.
Two new awards from endowments created in memory of Carl and Roseann Dahl—One $2,000 award to someone in Engineering Transfer demonstrating financial need and one $2,000 award to someone in Animal Health Technology demonstrating financial need.
Media inquires
Christopher Seguin
Vice-President Advancement, Thompson Rivers University
Phone: 250-574-0474
Email: [email protected]
While some cities wish to prohibit or limit the clustering of payday loan operations, Thompson Rivers University economist Dr. Laura Lamb wants more attention given to the lack of financial options for the clients.
When Lamb conducted her research into the use of these fringe finance institutions in 2012, she expected to find evidence to support her gut feeling: payday loan companies were predatory and needed to be shut down.
Reflecting on the survey results of 105 Kamloops residents, she had a change of heart: "If these places were shut down, the people using them would have nowhere to go," she said.
A full 78 per cent of those who frequent fringe finance businesses have a household income of less than $20,000, and most are using these services to pay for their basic needs: Food, bills and rent.
Lamb, with help from two undergraduate students, completed the research with support from the Thompson Nicola Cariboo United Way and the Kamloops Homelessness Action Plan. Since then, she's been digging deeper into the data she collected, and in October published "Aboriginal Fringe Finance Use and Financial Capabilities: Survey Evidence from a Canadian City," in Economic Papers.
Making her research unique, she assessed the financial literacy of the survey respondents using a quiz from Statistics Canada. What she found surprised her. When compared against Statistics Canada figures and adjusted for income and education, there isn't a strong correlation between those who frequent these businesses and a lack of financial literacy.
"People don't use these places because they're not financially savvy. They use them because they don't have any other choice," she said, adding that the continued use of fringe finance makes it difficult to get out of poverty. This type of banking is expensive, and even if you pay off a payday loan, there is no opportunity to build credit or get ahead.
"The people who are using them are just digging themselves deeper into poverty."
Most of the respondents (76 per cent) already hold accounts at mainstream banks, but aren't getting the services from those banks that they require.
And what surprised her perhaps the most was how many of those who responded to the survey self-identified as Aboriginal. About 10 per cent of the Kamloops population self-identifies as aboriginal compared to 42 per cent of her survey respondents. Aboriginal respondents were also much younger than average, and scored lower on the financial capability quiz.
As a result of her findings, Lamb suggests there is a need for culturally appropriate and relevant training to address barriers to Aboriginal financial literacy. While she emphasizes that there is a role for government to provide an incentive for mainstream banks to better service their more marginalized customers, specific focus needs to be made to address the needs of the Aboriginal population.
More information
Laura Lamb, Associate Professor, Economics
[email protected]
250-852-6277
More Campus Life - Kamloops articles
The views expressed are strictly those of the author and not necessarily those of Castanet. Castanet presents its columns "as is" and does not warrant the contents.
Previous Stories