Campus Life - Kamloops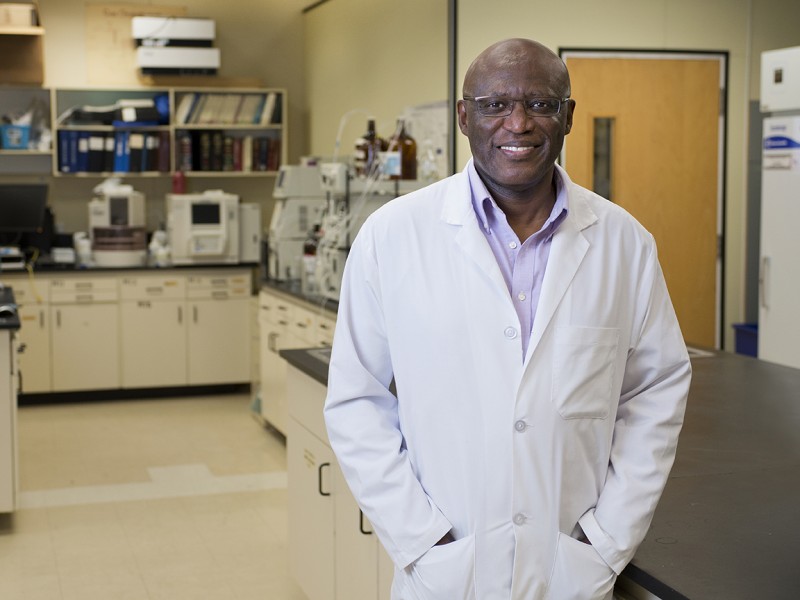 Six Thompson Rivers University researchers received nearly $200,000 through the Natural Sciences and Engineering Research Council (NSERC) Discovery Grants program, announced today by the Government of Canada.
The Discovery Grants Program funds innovations in chemistry, physics, life sciences, mathematics, computer science, geoscience and the many branches of engineering.
This represents an application success rate of 67 per cent—outstanding for a small university like TRU—and signifies an ongoing investment from the federal government to support fundamental science research.
These newly funded researchers bring the total to 17 TRU faculty currently supported by the Discovery Grant program, which is valued at nearly $1.3 million.
"I would like to extend my sincere congratulations to the six researchers at Thompson Rivers University who were awarded NSERC Discovery Grants for 2016," said Kamloops-Thompson-Cariboo MP Cathy McLeod. "These grants recognize the creativity and innovation that are at the heart of all research advances. TRU's broad base of research capacity has given our country a strong reputation for research excellence around the world."
These grants not only impact the faculty who receive the awards—and the students who work with them—but also society as a whole, said Dr. Tom Dickinson, Dean of Science.
"These grants will allow our science students to work alongside well-funded researchers on some really interesting projects. The funding will not only help our faculty to advance their individual careers, but also help our institution build its reputation among Canada's universities," he said.
2016 Discovery Grant Awards:
Dr. Xiaoping Shi, Assistant Professor, Mathematics. Changepoint Detection: Theory and Applications
Dr. Lauchlan Fraser, Professor, Biological Science. A Multi-Scale Approach to Determine Patterns and Drivers of Grassland Plant Diversity
Dr. Kinglsey Donkor, Professor, Chemistry. Environmental and Food Molecular Markers: Characterization and Binding Mechanisms by Separation Methods
Dr. Thomas Pypker, Assistant Professor, Natural Resource Science. Assessing the Impact of Vegetation on Hydrolic Flow Paths in Managed Semi-Arid Grasslands
Dr. Mark Rakobowchuk, Assistant Professor, Physiology. Exercise Derived Microvesicles: Understanding their Role in Progenitor and Endothelial Cell Function
Dr. John Church, Associate Professor and BC Innovation Council Chair in Cattle Industry Sustainability, Natural Resource Science. Precision Ranching: Development of Sustainable Landscapes and Cattle Management
"Discovery Grants support ongoing science research and go through a rigorous national peer-review process. To be competitive and ultimately successful speaks to the high calibre of research taking place at TRU," said Dr. Will Garrett-Petts, Associate Vice President of Research and Graduate Studies.
"One of TRU's strategic priorities is increasing our capacity to focus on community-relevant research and knowledge mobilization," said TRU President and Vice-Chancellor Alan Shaver. "These Discovery Grants will enable our researchers to further innovation and solve problems for the benefit of local communities and people around the world."
Backgrounder:
NSERC investments in discovery are backed by a highly-functional quality control process. Panels of world-leading researchers review and evaluate research proposals submitted by their peers.
The $341 million support for NSERC's flagship Discovery Grants program will foster research excellence in the full range of science and engineering disciplines. These grants, which are subject to rigorous quality assurance, support ongoing research programs with long-term goals and build the foundation for innovation.
Researchers will share an additional $26 million in Research Tools and Instruments Grants, to purchase new research equipment needed for world-leading discovery, innovation and training.
More information
Dr. Will Garrett-Petts, AVP Research and Graduate Studies
[email protected]
250-828-5410
---
The Research Support Fund provides a portion of the costs associated with managing the research funded by the Natural Sciences and Engineering Research Council, such as salaries for staff who provide administration support, training costs for workplace health and safety and maintenance of libraries.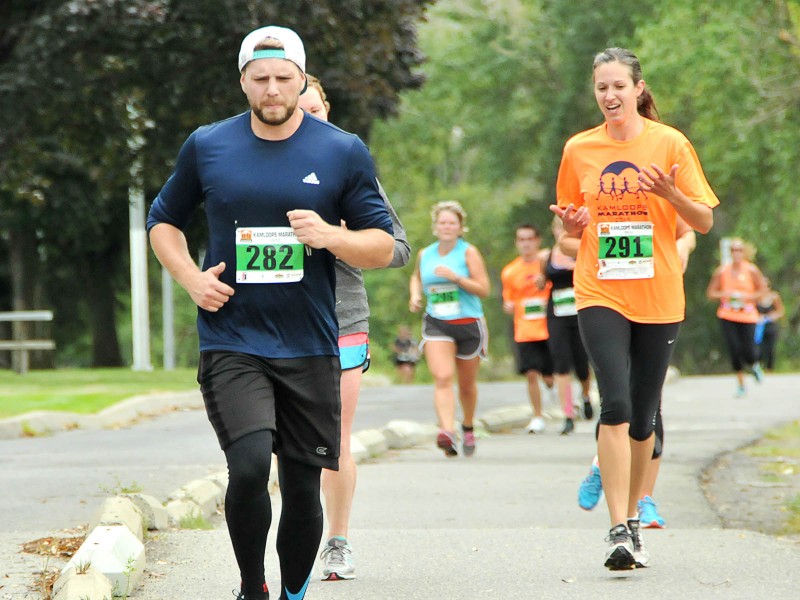 We're in the home stretch leading up to the 2016 Sport Chek Kamloops Marathon on July 24.
Here are some fun facts and a by-the-numbers look at the event:
Marathon day is actually made up of five races—the marathon, half marathon, 8km, marathon relay and 3km family run.
The marathon race is once again a certified qualifier for the Boston Marathon.
A portion of entry fees will go towards TRU WolfPack student athlete awards.
A portion of entry fees in the 3km family run will go towards Canadian Tire's Jumpstart Charities.
The start and finish lines for all races are at McArthur Island, complete with its picturesque views of the North Thompson River and rolling hills beyond.
Race package and expo is July 23 at the McArthur Island Sports Centre.
The first race was in 2012 and since then has grown from a regional event to one attracting runners from around BC, Canada and a growing number of international racers.
Being a qualifier for Boston has helped boost marathon participation and overall attendance. More than 600 people registered last year for one of the five races. Not including the 3km for which results weren't recorded, 423 registered for either the marathon, half, 8km or relay. Organizers are hoping total participation reaches 750 this year.
1
new title sponsor through 2018. This year Sport Chek signed a three-year commitment to provide in-kind sponsorship.
42.2
kilometres make up a marathon, which equals 26.2 miles. The half marathon is truly half the distance at 21.1km and 13.1 miles.
47,547
total kilometres run since the first year.
2
rivers flowing alongside the marathon race route: North Thompson and South Thompson.
1
bridge crossed (twice) in the marathon: Overlanders.
50 +
percentage of runners from Kamloops.
18
cash prize categories. Cheques are presented to first, second and third place in all women's and men's marathon, half and 8km distances. Award values are still being determined for this year.
5
neighbourhoods on the marathon race route: North Shore, Brocklehurst, Westsyde, West End and City Centre.
25 +
roads and intersections in the the marathon.
10,968
total kilometres run in 2015.
1,500 +
pancakes at the finish line made and served by Lions Club of Kamloops.
100 +
volunteers needed for the event to be a success. Among the roles: course set up and break down, aid station attendants, route marshals, working the start and finish lines, pace bunnies, committees and more.
8
water stations for the marathon.
900
litres of water on the course, which equals nearly 237 US gallons.
125
litres of chocolate milk at the finish line, which equals 33 US gallons.
172
metres of elevation gain on the marathon course, which equals 565 feet.
?
number of smiles and high fives after the race.
---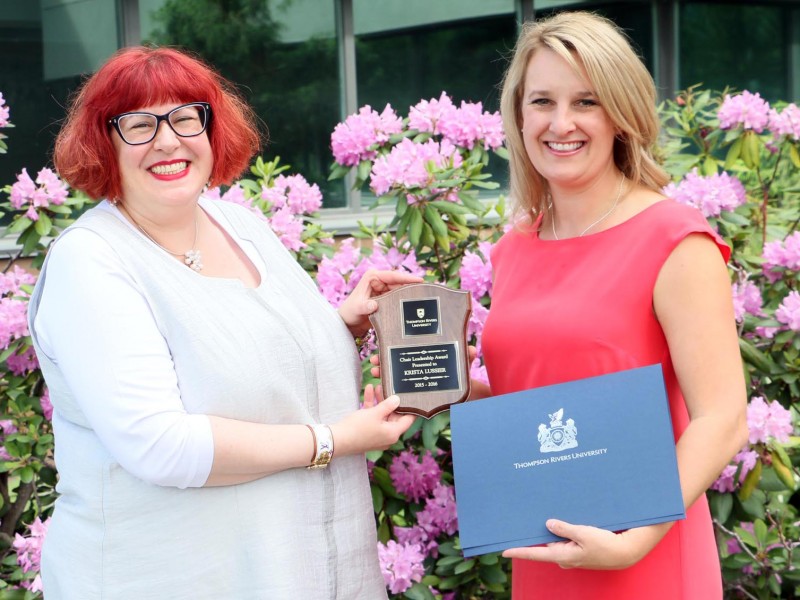 For her excellence in leading the Bachelor of Science in Nursing (BScN) program, Krista Lussier is the TRU Chair Leadership Award winner for 2015-16.
Nominated by 3 members of the department where the nominee is Chair, Lussier had to have met at least one of the following criteria:
Has demonstrated innovative leadership in developing and implementing initiatives related to their role as chair
Has enriched the life of their department, faculty/school either directly or indirectly for students, faculty, staff or the TRU community through their outstanding leadership
Has enhanced the reputation of their department, faculty or school and TRU through their leadership
Is highly regarded for integrity and professional conduct as a leader in their role as chair.
As the recipient, she received an engraved plaque and up to $1,500 to attend a leadership workshop or conference approved by the Provost's office.
Chair since October 2012, Lussier has also been recognized with a TRU Teaching Excellence Award for 2012 and an Association of Registered Nurses of BC Award for Excellence in Nursing Education for 2015.
Having served out her time as chair, she has returned to the classroom and with that, the TRU Newsroom asked her to reflect on her time as chair of BScN.
What does receiving this recognition mean to you?
The chair role is incredibly complex and multifaceted and the learning curve is steep and the expectations are immediate. Chairs are often in a position where they are straddling the world of administration while remaining a faculty member. Being that the role of chair is so vast, being recognized is an honour and one that has encouraged me to reflect on the successes the BScN program had while I was chair.
What are two or three personal highlights among the many reasons why you are received this award?
One of my areas of interest is mentorship and faculty orientation. I have had the opportunity to host a mentorship speed dating event, which was an event organically matching faculty with each other in hopes of developing a mentoring relationship. A follow up from that event was a newlywed game, which was an event to celebrate all mentorship relationships. Along with these interactive group events, I supported the one-to-one mentoring relationships and hosted weekly sessions based on specific topics of interest and needs. These sessions were very well attended and supported by both novice and experienced faculty.
Another personal highlight was working with Brenda Smith (Library) and Shawn Read (Career Education) as one of the co-chairs of the TRU Chairs Committee, which was formed a number of years ago based on a grassroots movement to bring chairs together and provide support and the professional development needed. Brenda, Shawn and I were able to further develop this group and host the first chairs/deans orientation and development session. The Chairs Committee has been able to identify, from the literature and from our own experiences, the needed supports necessary for chairs to transition into the role and to be successful. From this, we have had the opportunity to present at the 2016 Academic Chairpersons Conference in Charleston, South Carolina.
How do you describe your leadership style?
I consider my leadership role to be transformational in that I am able to adapt my style to my audience and am able to work with people and be democratic. The most important skill to posses as a leader is strong communication skills and I know my communication skills have helped me facilitate successes in the BScN program.
You served as chair since October 2012. What did you enjoy about the role?
I was afforded the opportunity to know my colleagues in a different way and hear about and celebrate the depth of their successes, their aspirations and their work ethics as they balanced many areas of interest along with their service, teaching and for some, research.
What I liked best was getting to know the wider TRU community. I gained a greater understanding and an incredible appreciation of the work other departments do on campus. I met, fully appreciated, and worked closely with many in the Registrar's office, Student Services, Finance, Human Resources, Information Technology Services (ITS), Centre for Student Engagement and Learning Innovation and other faculties and schools across campus.
What are you looking forward to with your return to teaching?
Though my leadership abilities have grown and I have learned more than I can imagine, it is exciting to return to my area of expertise and my passion. One of the things I have recognized since returning full-time to teaching is that as faculty members, we are so fortunate to interact with students and share our passions. We are fortunate to witness students' flames igniting and watching them succeed as the concepts come together for them.
Chair Leadership Award winners since first awarded for 2010-11
2015-16—Krista Lussier—School of Nursing
2014-15—Rob Hood, Faculty of Adventure, Culinary Arts and Tourism
2013-14—Peter Tsigaris, School of Business and Economics
and Wendy Kipnis, Faculty of Education and Social Work
2012-13—Rob Anderson, School of Business and Economics
2011-12—David Sheets, Faculty of Science
2010-11—Jeanette Murray, School of Nursing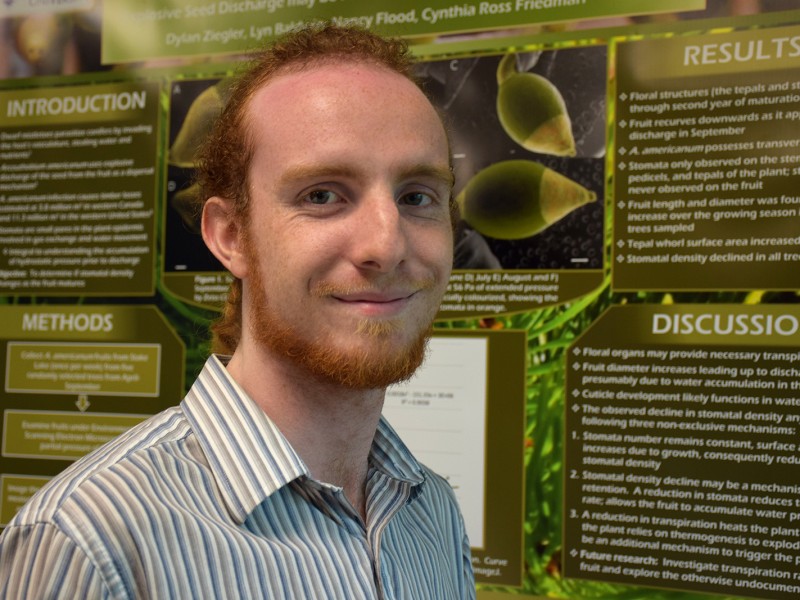 Dylan Ziegler has had an impressively busy spring. The fourth year biology student first tackled the Undergraduate Research and Innovation Conference in March, where he presented a poster and delivered a lecture. That conference went so well, he was encouraged to take his poster to the BC Regional Undergraduate Research Conference hosted by the University of the Fraser Valley in April, where he won the Associate Vice President of Research, Engagement and Graduate Studies Award for his poster, "An ace in the hole: Scanning electron microscopy reveals that stomata may play a role in explosive seed discharge."
The poster was a result of the research he conducted throughout the summer of 2015 as part of a Natural Sciences and Engineering Research Council (NSERC) Undergraduate Student Research Award.
Success at these two conferences inspired him to submit his poster for exhibit at the Canadian Botanical Association Conference, which was held at the University of Victoria in May.
"It was really interesting and worthwhile. The first two conferences were focused on undergraduate research, but at the Canadian Botanical Association conference there was a real focus on graduate research," said Ziegler, who is also an Undergraduate Research Ambassador at TRU.
What is an Undergraduate Research Ambassador?
Ambassadors promote undergraduate research, scholarship and creative inquiry, and provide support to other undergraduate students who wish to pursue research. Ambassadors advise students, deliver public talks, workshops and orientation activities, and work as part of a team to participate in a community-engaged research project.  
Ziegler is working with his supervisor to publish his original research exploring the external development of the female dwarf mistletoe through the use of the scanning electron microscope. Publishing in a scientific journal as an undergraduate is a huge achievement, said Dr. Cindy Ross Friedman.
"It acts as a calling card, and makes it far more likely that you can get funding for graduate school," she said.
Ziegler has already completed his honours thesis, and will spend a fifth year at TRU completing an Undergraduate Research Experience Award Project (UREAP) that aims to expand our understanding of plant physiology through the use of genomic tools.
His goal is to then move on to graduate school.
Ross Friedman has no doubt that Ziegler will find success wherever he goes.
"The whole idea of being able to pursue knowledge and to contribute to the frontiers of knowledge really does prepare you as a student for all your future endeavours."
More Campus Life - Kamloops articles
The views expressed are strictly those of the author and not necessarily those of Castanet. Castanet presents its columns "as is" and does not warrant the contents.
Previous Stories