Campus Life - Kamloops
Student success is a top priority here at Thompson Rivers University, so to help ease the demands of university, TRU launched a new mobile application called TRU Go—a one-stop shop for all the necessities of student life.
The app, which is available for free in the Google Play store and Apple App store, offers a wealth of current information about TRU and its resources while providing safe, secure access to information for students, faculty and staff.
Whether you're studying on campus or through Open Learning, TRU Go enables you to view your course timetable, exam schedule and grades as well as access essential tools such as Moodle, Blackboard, student email and myTRU in one place.
Tired of logging into multiple sites in your browser? Use the app to access finance, campus parking and city transit schedules.
Want to know what events are happening on campus? Check out the built-in event calendar at a glance.
Other features include:


News
Events
Social media
Campus map
Campus contacts
Notifications
Student tools
Final grades
Help desk
While TRU Go does not replace the website, it compiles the most commonly used features in one easy to access place.
The app is in its infancy and will continue to improve to meet your needs with new features and updates in future versions. Your feedback is welcome—look for chances to submit your input right in the app.
For more information
[email protected]
250-852-6800
Toll Free within Canada: 1-888-852-8533
Monday to Friday – 8:00 am to 6:00 pm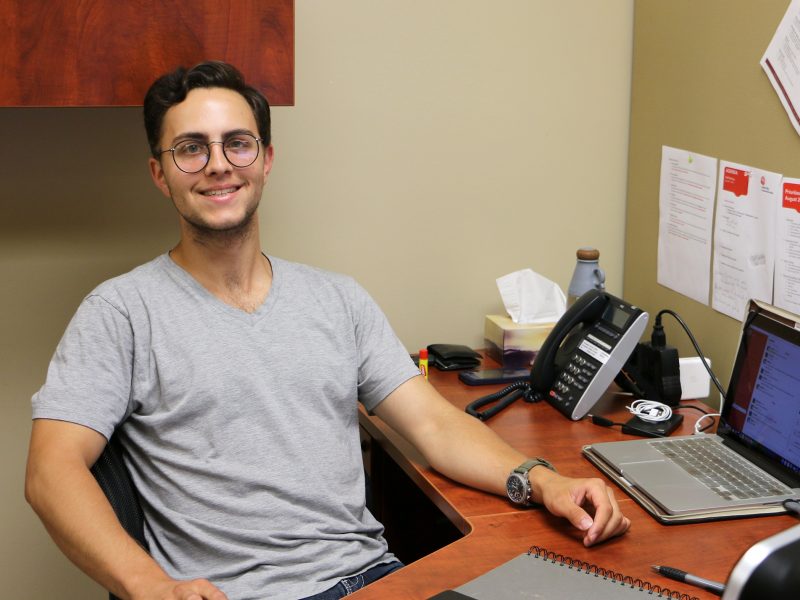 Nick Saxby is a TRU co-op student, spending his third and fourth co-op terms with United Way Thompson Nicola Cariboo.
As a marketing and communications associate with United Way, he's responsible for social media management, website maintenance and search engine optimization. He works closely with designers to create posters and ads and he regularly attends events and meetings with community donors.
"Networking is important in the business and marketing industry. Co-op positions like this open so many doors as you get to meet a variety of influential community members," said Saxby.
Most importantly, he helps people understand exactly how the United Way works with local non-profits, government, stakeholders and thousands of donors to change lives in the community.
As a Bachelor of Business Administration student, the courses Nick has already completed compliment his current role at the United Way. "Intro to marketing has given me a solid foundation of skills needed for this type of work," said Saxby. "The experience that I've gained through my co-op terms builds on what I've learned in the classroom."
The most educational challenge that he's faced is how to efficiently and effectively change his communication to match the company. "United Way's audience is primarily donors and it's definitely more of a serious tone than some of the past companies I have worked for," said Saxby. "My supervisor, Geralyn has been great, I get a lot of feedback on whether I am 'on brand' and aligned with the current messaging."
What has Saxby enjoyed the most while working for United Way? "I'm always improving how well I communicate to specific audiences. I've been able to improve my skills in design, social media and public speaking."
Saxby credits the School of Business and Economics business communications course for preparing him for his co-op positions. "Learning how to properly send a business email was huge, how to phrase things correctly and that less is usually more. Every course has helped my perspective and improved how I go about learning."
His co-op term with United Way ends in December, which happens to be the busiest time of year for campaigns. Saxby has been assisting with BBQs, breakfasts, collecting inspiring stories and creating marketing material. As a TRU student and a United Way employee, Saxby is excited to participate in the TRUly United campaign which is now underway and runs until Nov. 4. This year's goal is to raise $175,000 for student awards and community initiatives.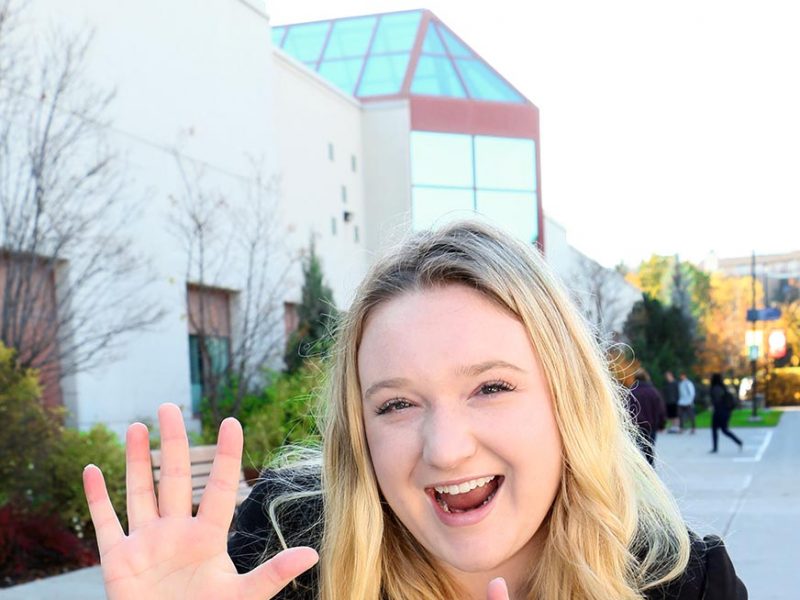 Campus will be more festive and livelier than usual on Saturday when upwards of 400 people are here for fall Open House. Visitors will include prospective students and their family and friends or others who have already made up their minds to attend TRU and are here to collect more information and gain a first-hand experience.
"Having prospective students here has a tremendous impact on the choices they make about where they choose to apply, and eventually attend university," said TRU Associate Vice-President Strategic Enrolment and University Registrar Michael Bluhm.
"In my experience, even more important are the chances they have to meet and interact with the amazing faculty, staff and students that make up our university community."
We turn to the event's coordinator, Jordan Ladouceur, who offers up seven reasons to attend Open House. In her second consecutive paid co-op work term with student recruitment, she is scheduled to graduate next spring with a Bachelor of Business Administration with concentrations in Human Resources and Leadership.
The day runs 9 a.m. to 3 p.m. and includes an official welcome, resource fair, campus tours, free outdoor BBQ and short information sessions covering almost everything that can be studied on campus.
Jordan's seven reasons
1. Envision yourself as a student at TRU.
"I didn't attend Open House before I came to TRU (in the fall of 2013 from living in White Rock) and I think if I had, I would have been more prepared," said Ladouceur. "I would have had a better idea of what I was coming to. I had a bit of fear and anxiety coming to TRU because I didn't know where my classes were, hadn't been in the buildings, hadn't been to Kamloops, didn't know how to take the bus, didn't know where the grocery stores were or anything like that."
2. Meet your future professors.
Among other reasons to meet faculty members, numerous opportunities can come your way through small conversations. It could be landing a paid research position, tips on how to get practical experience, or in Ladouceur's case, compete against other schools. "Thanks to a professor, I got the opportunity to do a case competition in Edmonton."
3. Get the best information about your program of choice.
You will have the opportunity to ask a professor or an advisor questions about the grades you need, what your introduction letter should sound like or advice on where to get volunteer hours if they are part of a program's admission requirements. "The best way to get into the program of your choice is to meet the advisors and faculty," said Ladouceur. "You can get a lot of information by calling or emailing, but there's something special about being face-to-face and meeting them."
4. Take a tour of campus.
Learn which buildings are which and where things are before you need them during the first few days on campus. Where are essentials like the doctors office, admissions, advising, the Bookstore, coffee shops, food outlets, classrooms, lecture halls, libraries, bus stops and study areas?
5. Explore student services at the resource fair.
Learn how co-op can get you real work experience before you graduate as it has done for Ladouceur or how Study Abroad allows you to travel and take courses that count towards graduation requirements.
Learn how to get some of your tuition paid for through Student Awards and Financial Support, how TRU Recreation can keep you active with drop-in gym times, free fitness classes and intramural sports. Learn about the Math Help Centre, Writing Centre and other student mentoring and peer support.
6. Make friends. Interact with future students.
You will likely have classes with a number of those attending Open House, especially during information sessions or the BBQ. "The day is a great way to meet someone and connect with them so when you are here in your first week, you already know someone," said Ladouceur.
7. Jump into Kamloops.
"If you're not from here like I was, Kamloops is going to be like your new hometown, so it's important to know what's here, what the town is all about," said Ladouceur. "You can go explore Victoria Street, go see the (South and North Thompson) rivers and learn more about what you can do outside of the university to be part of the community."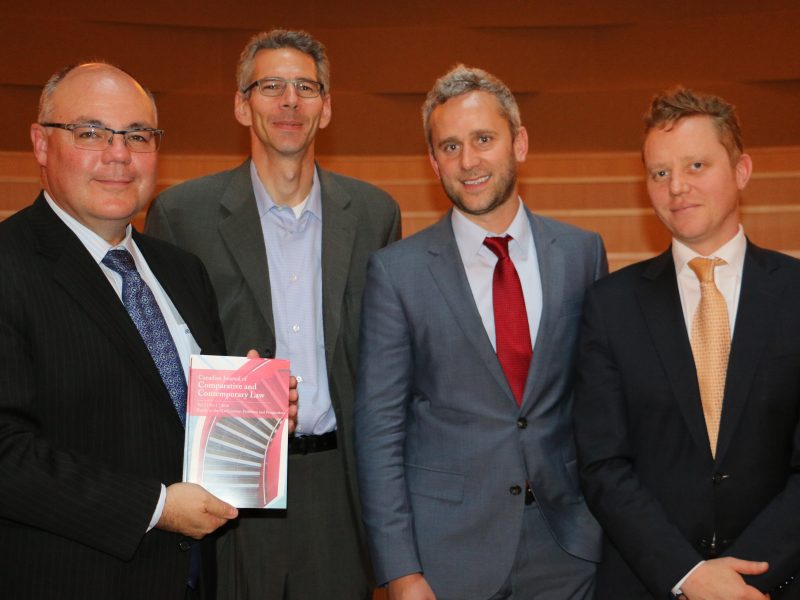 A high-profile judge who wrote the foreword in the recently published second volume of the Canadian Journal of Comparative and Contemporary Law, a legal journal published by TRU Law faculty members and students, says he was very impressed by all of the "heavy hitters" the editors landed.
"It's legal scholarship of the very highest caliber," said The Honourable Justice Russell Brown of the Supreme Court of Canada, who is visiting TRU Law this week.
"This collection of authors—they are significant thinkers in the field. I am honoured to have contributed to this journal in my own way," he said, referring to his foreword.
Justice Brown was presented with the first printed copy—hot off the press—on Tuesday afternoon prior to a public lecture he delivered at the university. He invited applause from the audience in praise of the publication before he addressed the crowd of about 150 eager law students and faculty members.
His lecture titled "Common Law Reasoning from a Recovering Tortaholic" discussed the evolution of common law reasoning—how and why judges make decisions based on the outcome of previous, similar cases. The tongue-in-cheek title refers to his time spent practising, teaching and eventually overseeing tort (civil wrongdoing) cases.
Ultimately, he metaphorically likened a judge's work to painting.
"A judge is trying to paint the best picture he or she can, with the canvas they have in front of them."
Justice Brown was appointed to the Supreme Court of Canada in 2015, and most recently sat on the Alberta Court of Appeal.
Before that, he was a member of the Faculty of Law at the University of Alberta.  As a former law professor, Justice Brown maintains a close relationship with TRU Law's faculty members.
This marks his second trip to the Law School (the first was while he was with the Alberta Court of Appeal).
When asked about his return to Kamloops and the West (he now resides in Ottawa but is originally from the small BC town of Burns Lake) he says he was a bit nostalgic.
"On the car ride from the airport to the hotel a country song I know came on the radio. It reminded me of Alberta and the West. I feel at home in Kamloops," he said.
As part of a three-day visit to TRU Law, Justice Brown is also lunching with faculty, meeting students and spending an evening with the Kamloops Bar Association.
More Campus Life - Kamloops articles
The views expressed are strictly those of the author and not necessarily those of Castanet. Castanet presents its columns "as is" and does not warrant the contents.
Previous Stories