Campus Life - Kamloops
Learning is fun. So much so, they've spent hours exploring an area of interest in the hope of better understanding it and the world around them.
As a reward, more than 30 TRU students and others from around Western Canada, will share their research findings this weekend during TRU's Philosophy, History and Politics Conference, Jan. 18-20. Organized by students and overseen by two faculty members, this is the conference's eleventh year.
The presentation schedule reveals a range of talks, rich in themes revolving around gender, race, international conflicts, freedoms, ethics, social issues, literature, Indigenous issues, justice, criminal behaviour, animals and more.
Registration is free for TRU students and for TRU faculty, but registration is required. There is a cost for others wishing to attend as well as wanting food access.
In doing their research, students have also gained an appreciation and deeper understanding for academic integrity, the acquisition of knowledge and the challenges and successes that go along with doing a study. And for those building themselves up for masters programs, participating in PHP will serve them well. A number of PHP presenters will further refine their presentation skills at the13th annual TRU Undergraduate Research & Innovation Conference in March.
In addition to other events, PHP includes an internal keynote address and an external one. The public is invited to attend the external address.
Keynote addresses
Internal address—TRU's Dr. Tracy Penny Light (history) will deliver a talk called Constructing Health: Meaning, Medicine, and the 'Normal' Body.
External address—Dr. Michael Byers, Canada Research Chair in Global Politics and International Law, UBC, will deliver the external address with his talk called Could Elon Musk become the President of Mars?
More information and to volunteer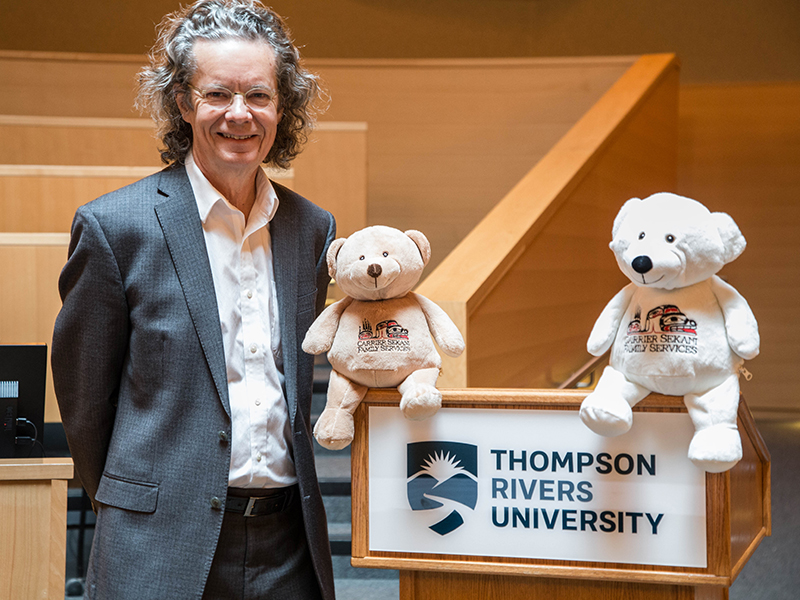 December's Senate meeting welcomed two new members to the floor. Casually attired but rich in symbolism, Kenkeknem and Ckenmim'elt are a reminder of our collective commitments and responsibilities to enact and uphold the Truth and Reconciliation Commission of Canada Calls to Action, and Jordan's Principle which ensures unhindered access to all public services for Indigenous children in a manner that takes account of historical disadvantages linked to colonization and meets their cultural needs.
The stuffed bears have been adopted by the School of Nursing and the Nursing Undergraduate Society as part of an initiative spearheaded by the First Nations Child & Family Caring Society of Canada, bearing witness to ensure nursing curriculum and faculty development meet these requirements.
Kenkeknem and cub Ckenmim'elt made their first visit to Senate on Dec. 11, 2017, where they were honoured with a warm introduction and welcome from TRU President Alan Shaver and Provost Dr. Christine L. Bovis-Cnossen. The important symbolism of their presence in Senate was recognized by the President, and the Secretariat was asked to provide name plates for the bruins for the next meeting. The bears were very well received and seated front and centre, and will soon be adorned with their traditional regalia.
Make Castanet Your Homepage