Campus Life - Kamloops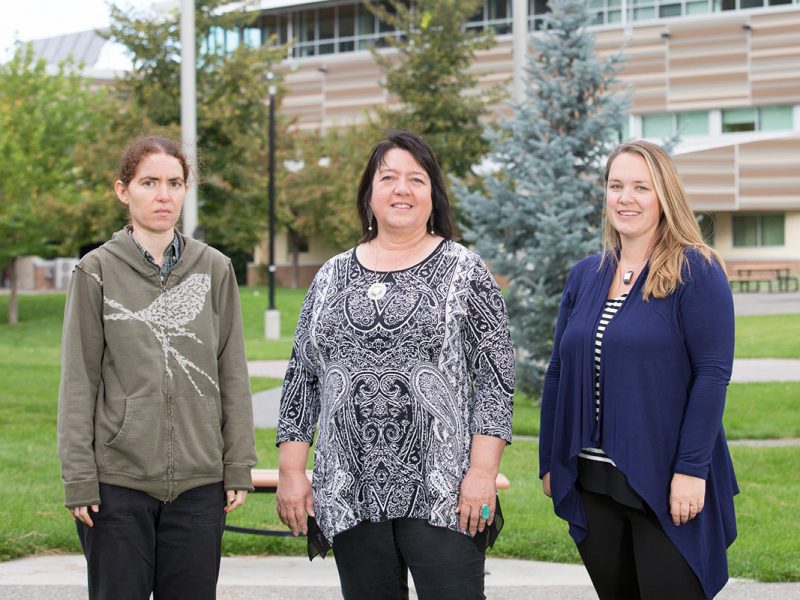 Thompson Rivers University welcomes three Tier 2 Canada Research Chairs (CRCs), which further accelerates and strengthens the university's research capacity.
"The appointment of TRU's newest Tier 2 Canada Research Chairs is a significant recognition of our developing strength in research. This supports the relevant and applicable research TRU undertakes in areas that directly impact our local community and the nation, said President and Vice-Chancellor, Alan Shaver.
The three CRCs join Dr. Courtney Mason, Tier 2 Canada Research Chair in Rural Livelihoods and Sustainable Communities in the Faculty of Adventure, Culinary Arts and Tourism. Dr. Mason was introduced to the TRU community in February 2016.
This is a significant milestone, as it marks the first time in a decade that TRU has had all four of its Canada Research Chairs in place at the same time.
Together, TRU's four CRCs represent a $2 million investment from the CRC Program, along with an additional $241,000 infrastructure investment from the Canada Foundation for Innovation.
The three new Tier 2 Canada Research Chairs are:
Shelly Johnson, CRC in Indigenizing Higher Education, Faculty of Education and Social Work

Dr. Johnson (Mukwa Musayett) is Saulteaux from Keeseekoose First Nation in Saskatchewan. This is the world's first research Chair in Indigenizing higher education. Johnson is a recognized leader in Indigenous research methodologies and leadership. She arrives from UBC in January 2017 and is currently a primary investigator (PI) and co-PI on $3-million in research grants with an emphasis on developing capacity in urban Aboriginal communities. At TRU Johnson will focus on how university-based research and teaching can better serve Indigenous advancement.

Yana Nec, CRC Applied Mathematics and Optimization, Faculty of Science

Dr. Nec is an emerging leader in applied mathematics who specializes in partial differential equations. Her research focuses on the use of mathematics to find solutions to unconventional problems, and has relevance across all fields. Nec joins TRU from New Brunswick's Mount Allison University.

Heather Price, CRC in Culture and Communities: Children and the Law, Faculty of Arts

Dr. Price is one of a handful of experts in North America on memory and children as witnesses within the legal system. She regularly consults with law enforcement and the courts and provides training to professionals working within the legal system. Her research serves to ensure the integrity of the legal system as it relates to the role of children and their participation in it. Price joins TRU from the University of Regina.
"All four of our Canada Research Chairholders are essential threads in the fabric of a research-informed university, and will create increased momentum for research at TRU," said AVP Research and Graduate Studies, Dr. Will Garrett-Petts. "They will elevate research training opportunities for our students and help answer questions of particular relevance to the communities we serve."
Last week, the Government of Canada announced more than 200 new and renewed Canada Research Chairs, which represents more than $173 million nationally. Of the chairholders announced, 38 per cent are women, which marks a significant increase from previous announcements. Earlier this year, the CRC Chairs Program said it was a high priority to close the equity gaps that see women, visible minorities and other diverse groups underrepresented in the award's ranks.
The CRC program invests approximately $265 million annually to attract and retain some of the world's most accomplished and promising researchers, acknowledged by their peers as being leaders in their fields.
Quotes:
"The Faculty of Arts is delighted with the announcement of Dr. Heather Price as the CRC in Culture and Communities: Children and the Law. Dr. Price brings an impactful and exciting research program to TRU that will augment our degree program. Faculty members and students in our division and across the university look forward to collaborating her. Students will be trained in the growing field of social sciences and law, and will gain valuable research skills and applied knowledge. Her research on child witnesses is recognized internationally."
Acting Dean of Arts, Sandra Vermeulen
"Dr. Johnson's appointment demonstrates TRU's commitment to education for reconciliation and advancing Indigenous opportunity. Associate Professor Johnson's research is innovative and courageous at this time when Indigenous student education is a priority for Canadian universities. The Faculty of Education and Social Work is excited to welcome Dr. Johnson as Canada's and the world's first research Chair in Indigenizing Higher Education. We look forward to Johnson's leadership in growing a strong team of student researchers and scholars, expanding knowledge about university practices that best serve Indigenous student success."
Dean of Education and Social Work, Airini
"Dr. Yana Nec is one of the rare breed of academics who can both develop new analytical tools to solve problems, while also applying those tools to address some of the most urgent ecological issues our communities face. Her research expertise in applied mathematics will add greatly to our current initiatives in engineering, big data, and optimization and decision science."
Dean of Science, Dr. Tom Dickinson
Quick facts
Nearly 1,700 Canada Research Chair holders are working at over 70 postsecondary institutions across the country in a wide range of fields. More than 240 of these chairs are in British Columbia
The Research Support Fund supports a portion of the costs associated with managing research at Canadian institutions such as administrative support, training costs for workplace health and safety, maintenance costs for libraries and laboratories, and administrative costs
The Canada Foundation for Innovation gives researchers the tools they need to innovate by investing in state-of-the-art facilities and equipment in Canada's universities, colleges and research hospitals, and not-for-profit research institutions
Created in 2000, the CRC program has helped attract and retain some of the world's most accomplished and promising minds. Canada Research Chairs deepen our knowledge, enhance our quality of life and grow our economy.
Universities Canada's 97-member institutions have adopted Indigenous education as a priority. In the spirit of advancing opportunities for Indigenous students, the leaders of Canada's universities committed to principles, developed in close consultation with Indigenous communities that acknowledge the unique needs of Indigenous communities across Canada and their goals of autonomy and self-determination
More information
Danna Bach, Research Communication Officer
[email protected]
250-371-5676
Nearly 20 years ago, Dr. Wendy Gardner set up two test plots on old tailings at Highland Valley Copper that were amended using Metro Vancouver biosolids. Today, these plots provide the perfect living lab, allowing researchers to unlock clues about the long-term impact of the use of biosolids in mine reclamation efforts.
Supported by Genome BC, Metro Vancouver and Highland Valley Copper, Dr. Jonathan Van Hamme is now poised to uncover some of the genomic mysteries housed within these 20-year-old test plots.
The project, "Long-term impacts of biosolids on soil microbial communities during mine tailings reclamation," is valued at more than $190,000 and is funded through Genome BC's User Partnership Program.
Mine tailings are like beach sand, said Van Hamme, explaining that for plants to grow on these sites, organic material must be added. In 1998, Gardner established the test plots using varying concentrations of biosolids; she then seeded the area.
The sites were left undisturbed; even the fencing around each plot still stands, which Van Hamme calls "amazing." It's important to begin this research immediately, however, before the sites are destroyed by future mining.
Van Hamme will use genomic tools to undertake a comprehensive microbial community analysis, monitoring microbial gene expression related to metal toxicity and biologically mediated metal transformations.
"The microbial communities really drive the plant development. We're using genomic tools to spot the difference in the microbial communities of the treated and untreated areas," he said. "Microbes can do really cool things with metals, and can even sequester metal. We can also look for the genes responsible for disease-causing organisms."
Van Hamme is working alongside Gardner, who is exploring how biosolid treatments impact the chemical and physical properties of the soil, specifically in terms of plant available nutrients and metals.
Dr. Lauchlan Fraser, meanwhile, is leading a research project that investigates the public perception of the use of biosolids in land applications. Both Gardner and Fraser are supported by Metro Vancouver.
It is hoped that together these research projects will define what, if any, risks there are in applying biosolids for reclamation purposes.
"Class A biosolids are highly controlled substances, but it's important to monitor their use," said Van Hamme. "If we do discover something of concern this information will help biosolid processers make a safer product."
More information
Dr. Jonathan Van Hamme
[email protected]
250-377-6064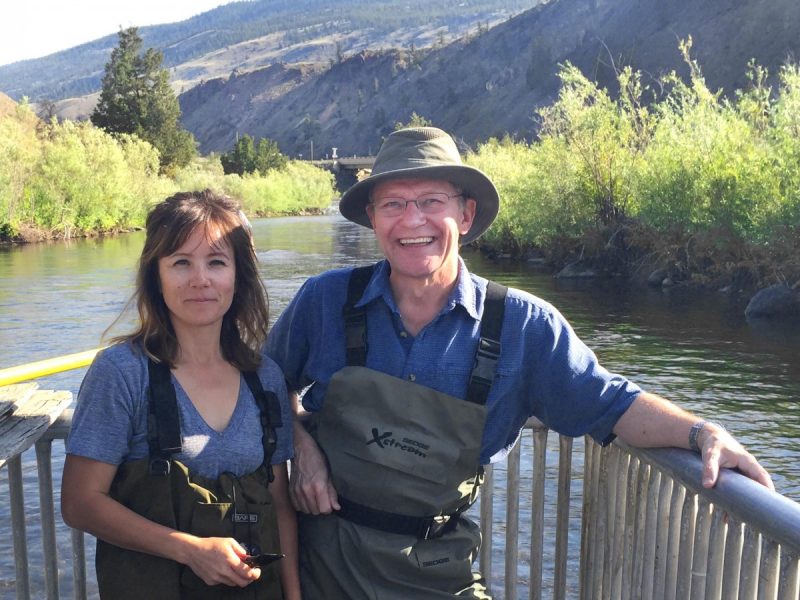 Keeping salmon populations healthy and abundant is a long-running passion for Michelle Walsh and in the face of declining numbers in recent years, it's no wonder she made it the focus of her master's research.
The interest started in childhood during fishing trips with her late grandparents—Ida and Frank George—and gained momentum as a teenager while volunteering with conservation projects. Today she is a fisheries biologist with the Shuswap Nation Tribal Council's Secwepemc Fisheries Commission.
"It's sad if fish populations are lost because it's almost impossible to get them back, so you have to try and do what you can while the fish are still there," said Walsh, who is about halfway into the two-year Master of Science in Environmental Science study and expects to defend her thesis in 2018. "You have to keep doing what you can to rebuild them."
In a multi-faceted project supervised by Natural Resource Science faculty member Brian Heise, Walsh is measuring a 38-kilometre stretch of the Deadman River near Kamloops to determine whether warm water conditions combined with the physical features of the river—like shallow and deep portions, areas of groundwater upwelling and impediments—affect Chinook salmon as they swim upstream to spawn and if they do, how so. To learn what areas of the river are more appealing to the Chinook than others, Walsh and others attached small radio frequency monitors to the dorsal fin of about 50 fish.
"I'm hopeful the information can be used to rebuild the population to a sustainable level that can withstand harvest among many users while still meeting conservation requirements," said Walsh. "The information could serve as a template to help managers develop restoration strategies for Chinook, steelhead, Interior Fraser River coho, pink salmon and other species."
The field work spanned June through September and next summer will involve more of the same. Walsh is hoping for a more typical Kamloops summer of warmer, drier months to balance this year's uncharacteristically cooler and wetter season.
The Deadman River is located about a 25-minute drive west of Kamloops, just outside of Savona. The study area starts at Mowich Lake and runs downstream to the river mouth, which empties into the Lower Thompson River. Much of the Deadman is located on the reserve land of the Skeetchestn Indian Band and as a result, Walsh has been working closely with the Skeetchestn Natural Resources Corporation, community groups both near and far, and citizens.
It's been a highly collaborative project and the approach recently caught the attention of the Fraser Basin Council, which named Walsh one of three recipients of a 2016 Elizabeth Henry Scholarship Fund for Communities and Environmental Health award. Humbled by the recognition, Walsh is quick to say everything has been a group effort.
"It's recognition for myself, but also for the volunteers and the different groups that have donated money to the project and the others who keep it going," said Walsh. "It's a nice pat on the back that gives us some fuel in the tank to keep going, even with the long hours and physically demanding times out in the field."
Heise said the research will assist with two important issues in fish management—reducing mortality and saving money.
"First, it will determine if Chinook salmon are selecting groundwater upwelling zones for spawning, which would help them survive the effects of climate change," said Heise. "Secondly, areas of groundwater upwelling identified by the salmon and remote sensing will help determine the optimal locations for streambank restoration efforts, thus making valuable restoration dollars go further."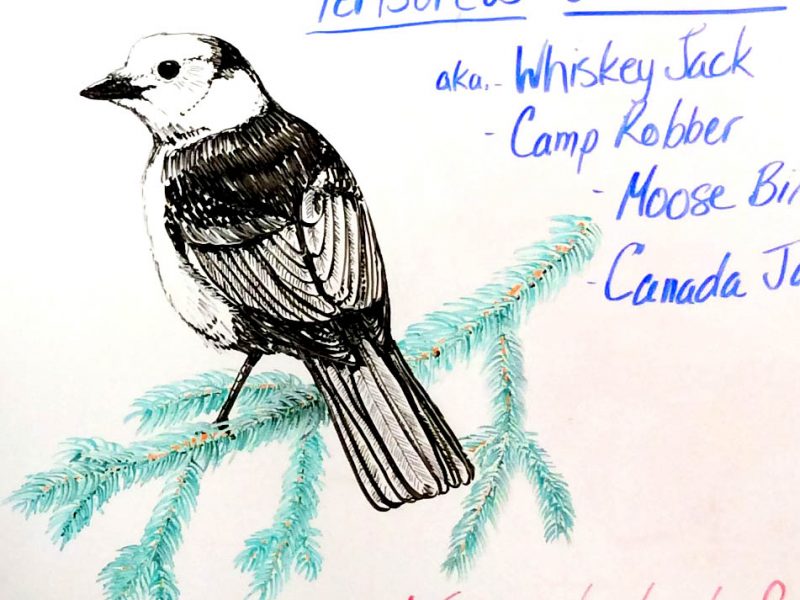 A small bird with an unassuming appearance, a persistent personality, who lives in every province and territory and sounds at times like a chattering monkey, has been named the country's national bird by Canadian Geographic magazine.
Let's hear it for the gray jay, also known as the Canada jay, whiskey jack and camp robber.
The magazine came up with the idea of a national bird as a way of celebrating 2017 being Canada's 150th birthday. The online voting recently closed and the judges announced the gray jay, which beat out better-known birds the likes of the Canada goose, snowy owl and the common loon.
For some commentary on the decision, we turn to three of TRU's bird experts—Dean of Science Tom Dickinson and faculty members Nancy Flood and Stephen Joly.
They agree the choice is a good one for numerous reasons and following are a few that may make you smile.
Living in Canada means living with the cold
Flood: "They are hardcore Canadians because they don't escape to warmer climes in the winter, but tough it out by surviving partly on food they've cached during the summer. An individual gray jay can store hundreds of seeds in various places during a single day in the summer and remember where enough of the caches are months later. They harvest and store food up for the long winter ahead. How Canadian is that?"
Dickinson: "They not only endure, but thrive in our snowy winters and they do this by using their wits and their physical fortitude. They nest at the end of winter and I've watched a fluffed-out mother sit tight on eggs in the middle of a snowstorm in Algonquin Park.
Older siblings help around the home
Flood: "Often young from the previous year will help older adults (typically their own parents) feed the young from that year, but only after those young have left the nest and are still hanging around being fed and learning the ropes of survival. The young adults get to watch how to build a nest, learn how to detect predators, learn to care for the younger ones and to find food by retrieving caches to feed the younger ones. How great is that?"
Guard your grub
Dickinson: "They need to be food-motivated to get enough energy to survive the coldest of nights, and so become fearless when a food source is found. They will out-compete ravens for frozen carrion, or compete with me for my trail mix at my campsite."
Flood: "My favourite recollection of gray jays is seeing the delight of my then-young children as they had the birds come to their hands to take seeds while we were hiking in Wells Gray Park. They are feisty and smart birds—brave enough to visit campsites and smart enough to steal food that isn't being watched. But, they aren't terribly aggressive about it—like most Canadians. They are polite and friendly and will land on a hand holding food if the person is patient."
Joly: "In 2013 while on a field ornithology trip, we made a stop at Lightning Lake in Manning Park and as we looked at the still frozen lake, a small flock of gray jays approached the group. Students were amazed at how they came right down to their hand to take the Goldfish Crackers we were offering. I then turned to the class and said, "Watch this," and held a cracker in my lips. Within a few seconds a gray jay flew down, landed on my chin, and made off with the cracker."
Dressed for success
Dickinson: "They are very handsome birds and when I see an adult, I think of him or her as being dressed for an elegant formal occasion in a white shirt and an ashy-gray tuxedo or gown. They move with grace on the wing, with flutters and glides. Very classy, but unpretentious. How much more Canadian can you get?"
Humble citizens
Joly: "Their non-garish plumage speaks to us Canadians as having a collectively humble personality."
Learn something new?
Flood: "A final reason for the gray jay? The bird seems to be unfamiliar to many Canadians and because of that, could be the impetus to learn something new."
Now that's something worth tweeting about.
More Campus Life - Kamloops articles
The views expressed are strictly those of the author and not necessarily those of Castanet. Castanet presents its columns "as is" and does not warrant the contents.
Previous Stories