Campus Life - Kamloops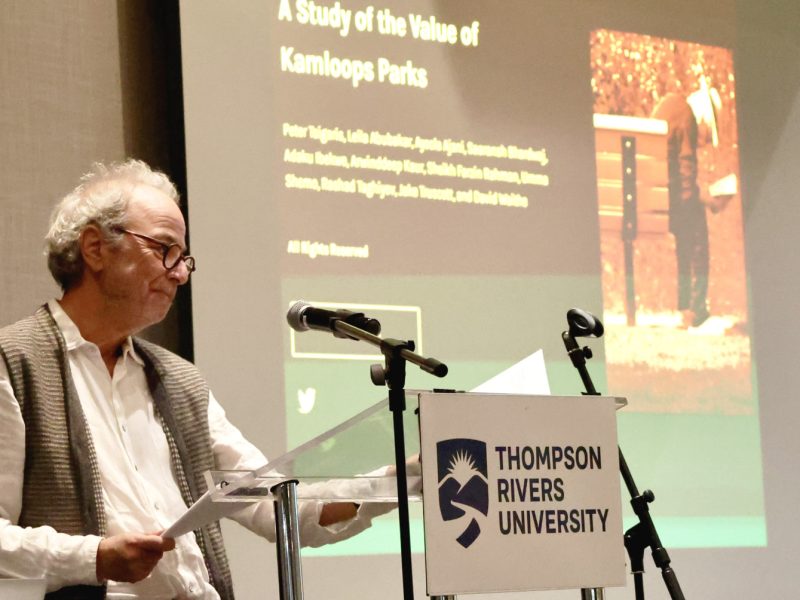 What value can you place on local parks? 
This is a question TRU economics Professor Peter Tsigaris, along with his class of graduate students, ventured to find out over the course of a semester. 
Tsigaris was inspired by the work of Paul Sutton, a University of Denver professor and author of the book's forward who assessed the value of New York city's iconic Central Park through the recreational, regulatory and supporting ecosystem services it provides.
Tsigaris wanted to localize these concepts for his students and community. 
"I think it is very important that we start putting value not only on physical assets, but also recognizing the capital present within nature and show its importance to society," he says. "When you substitute nature for physical capital, there is a cost, seen in losing ecosystem services which should be accounted for in a cost-benefit valuation the project."
The value of physical capital in Kamloops (such as housing and commercial buildings) is recognized at approximately $24 billion as of 2022. However, Tsigaris and his team believe the value of parks can easily exceed the value of built capital. Parks as assets provide opportunities for tourism, recreation and culture, air quality regulation, and habitat for plants and animals. One example of this can be seen with the Kenna Cartwright Nature Park, the largest urban park in British Columbia, which has an estimated value of $3 billion. The annual flow of ecosystem services was estimated at $45 million and rises by two per cent per year.
Titled A Study of the Value of Kamloops Parks, the book contains 11 chapters in total, with each student assigned to study a Kamloops park. Leila Abubakar, Ayoola Ajani, Saaransh Bhardwaj, Adaku Ibekwe, Arwinddeep Kaur, Sheikh Farzin Rahman, Umma Shemo, Rashad Taghiyev, Jake Truscott and David Waithe are all students who worked with Tsigaris on the book.  
Taghiyev, a Masters of Science in Environmental Economics and Management (MScEEM) student from Azerbaijan, chose McDonald Park on the Kamloops North Shore. Through measurements and calculations, Taghiyev estimated it is worth $13.1 million to the city. 
Kaur, another MScEEM student, found the Albert McGowan Park represents a substantial $48 million natural capital asset.
Staff in the city's Parks and Civic Facilities department are excited, says Tsigaris. "They want to see the book and incorporate it into their planning." 
The experiential learning involved with this project stood out for the students. Kaur discovered she could apply theoretical work and the results that followed, while also learning how to make economics more straightforward and free of technical jargon to be understood by the public.
Taghiyev saw his work has a direct line to sustainability and the local economy, while underscoring the importance of ecosystem preservation and high value of green spaces to the economy, especially housing prices.

While experiential education and community benefit were core to this project, Tsigaris says sustainability was the biggest factor behind his work. "Economics should be a guiding force for the sustainability of our planet. Projects like these help make that happen."
Read the book online here: kamloops-parks.pressbooks.tru.ca.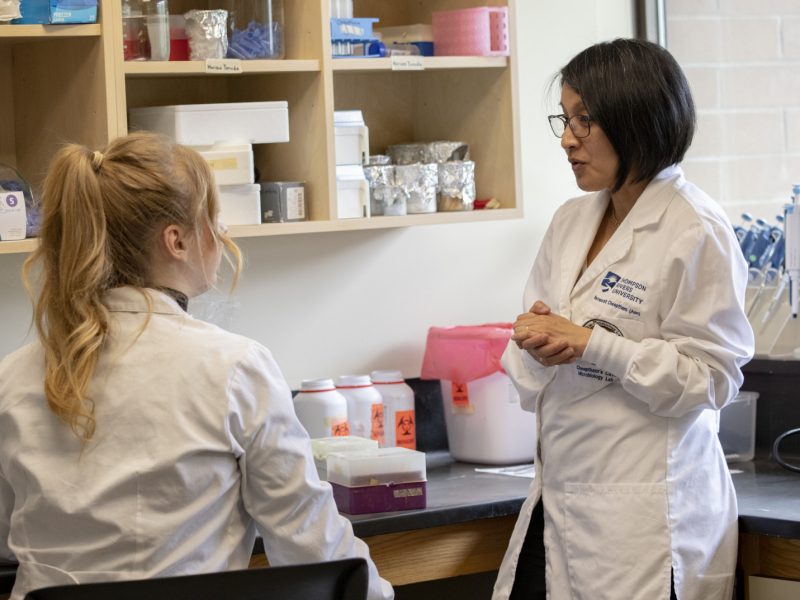 An outstanding group of teachers from across the country gathered in Banff this month to create a project that could change the landscape of Canadian post-secondary education.
Dr. Naowarat (Ann) Cheeptham, Biological Sciences faculty member at Thompson Rivers University (TRU), is one of 10 recipients of this year's 3M National Teaching Fellowship, joining a membership of over 300 post-secondary educators recognized for their teaching and educational leadership. But the award isn't just a pat on the back. At the annual fellowship summit, the new cohort met to discuss creating change, and one year and $25,000 in 3M funding to see it through.
"This is a great opportunity as an educator in academia to truly influence the landscape of Canadian higher ed for the better," says Cheeptham, who is the first faculty member from TRU to join the fellowship.
"We talked about the changing world, the changing higher ed landscape: climate, the pandemic, a lot about equity, diversity and inclusion, and Truth and Reconciliation. We were asked to submit the issues top of mind to us, and the facilitators did a great job to mold that, to find themes and commonalities."
The fellows come from a diverse range of disciplines, from medicine to mathematics to marketing. But they found a common thread over the four days of the summit.
"All ten of us, we really value critical reflection in terms of our journey as educators," says Cheeptham. "So in the short-term, this first year, we're going to put out a tool to basically help new and seasoned faculty members who are really passionate about teaching to scan themselves."
They will add resources to the tool as a next step so that when teachers see where they are as an educator and where they want to go, they have support to continue growing.
Long-term, the cohort envisions their tool as a clear measurement of what an exceptional 21st century educator looks like—which would revolutionize how teachers are evaluated.
"We could list all the ways to measure an effective researcher: from publishing to research grant dollars to the number of people we mentor/supervise, etc. But there's no vigorous, all-around metric to measure teaching, per se. Are student surveys or how many awards you get really a true measurement?" she says.
The group's combined resources include several centres for teaching and learning and access to graduate and post-doctoral researchers. Part of 3M's funding will be used to hire research assistants to ask research questions and audit all the data. Cheeptham hopes by the end of next year they'll have a self-scanning tool ready to launch.
"I've never actually gone to any meetings, conferences, workshops or anything that made me feel so invigorated at the end," she says.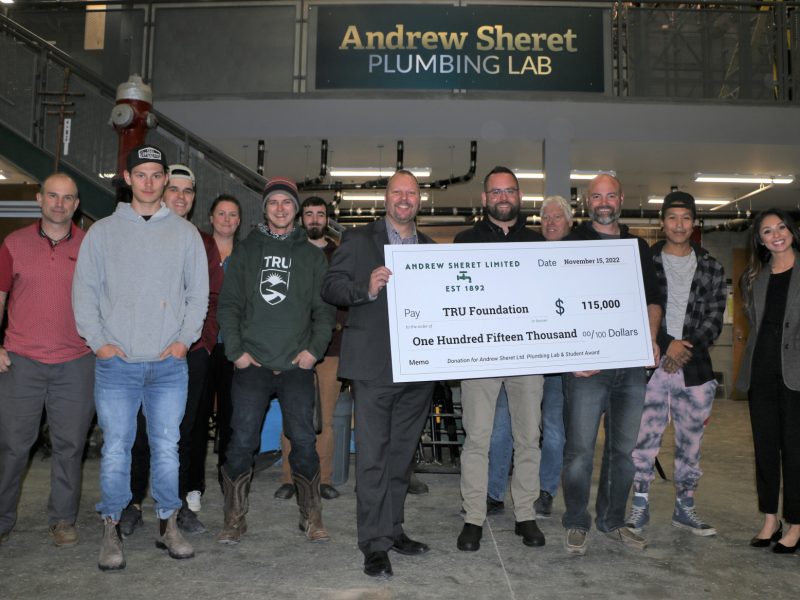 Plumbing — it's not just about toilets. And once you've had a chance to see TRU's Andrew Sheret Plumbing Lab in action, you might even describe it as a thing of beauty.
Lab visionary and Associate Professor Paul Simpson aspired to design a piping lab at TRU for years, but without funding, his plans were no more than pipe dreams. That is until Andrew Sheret Ltd. stepped up with a $100,000 donation to upgrade the facility.
In addition, Andrew Sheret also established the Andrew Sheret Limited Plumbing Award, a $1,500 annual award set to support piping students for the next 10 years.
"We enjoy investing in the future and the trades are where it's at these days," said Chris Eugster, Andrew Sheret regional manager. "(Experiential learning) creates curiosity and curiosity is how you learn. If you're not invested and interested in it, you're never going to learn."
With a network of glass pipes overhead and the water moving through them in a carefully choreographed dance, students can see exactly what is happening in the pipes and create plumbing simulations to aid understanding and facilitate learning.
"I dreamed about something like this for a long time," said Simpson. "The new glass lab benefits students by allowing them to be immersed in an actual working drainage system. . . . We use the lab to introduce experiential learning practices where students can ask questions based on textbooks and experiment with the lab to see a new outcome. This is a big change from traditional trades training."
Lab described as legacy project for students
TRU alum and newly Red Seal certified plumber Shane Wonnacott heard Simpson talk about his plans for the lab often during his time at TRU, so when Simpson told his students they had finally secured funding, Wonnacott asked to be involved. Two other students, Jared Emery and Robbie Case, joined in to design and build the lab. Together with Simpson and TRU's Facilities department, they took the original plans for upgrades and turned them into even more.
"It was almost like a legacy project for us. To actually renovate and add on to the school — it was pretty interesting," said Wonnacott, adding that when potential students tour the facilities, viewing all of the moving parts will definitely be a draw for the program. "They can go up and see that there's a lot more to it than just unplugging a drain."
School of Trades and Technology Dean Baldev Pooni said the lab is the only one of its kind in BC and far beyond, simulating the piping system of a multi-unit dwelling so students can see a live demo of water flowing through a multi-pipe system.
"We are very thankful to Andrew Sheret for the generous contribution, which will serve the learning of apprentices throughout BC," said Pooni.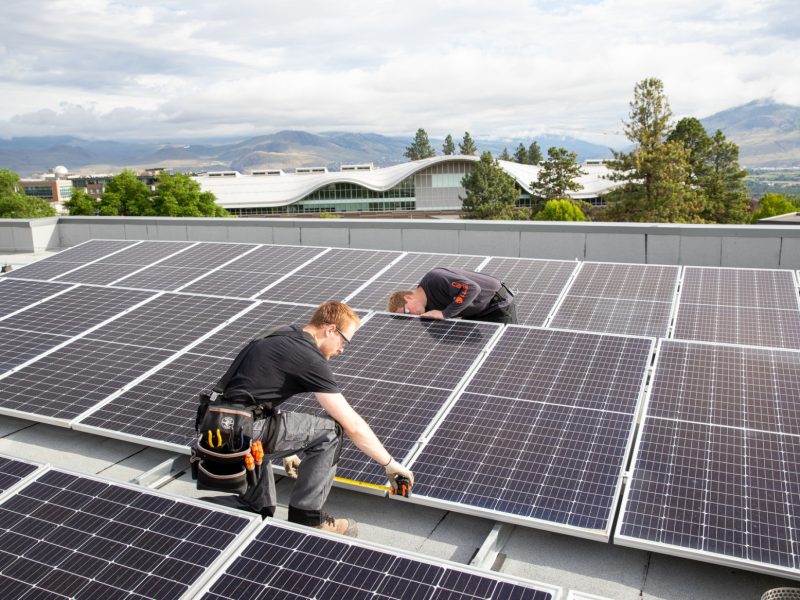 For a second time, Thompson Rivers University (TRU) has achieved a rare platinum rating from the Association for the Advancement of Sustainability in Higher Education's (AASHE) Sustainability Tracking, Assessment and Rating System (STARS) program, which measures and encourages sustainability in all key aspects of higher education. TRU is currently one of only two Canadian universities to receive a platinum rating.
TRU achieved a platinum rating in 2018, the first Canadian institution to reach that level. The university is now the first in Canada to have achieved the accolade twice and is one of six in the world to reach double platinum.
"Sustainability is one of our core values; it's something that we strive to incorporate throughout our operations and our programs," says TRU President Brett Fairbairn. "Receiving the STARS platinum rating recognizes our efforts and confirms that TRU is a world leader in this important area. We know that what we do today impacts the well-being of future generations, and to be recognized as one of the best demonstrates our commitment."
TRU's Campus Tree Program, Fill it Forward and promoting the Kamloops Community Climate Action Plan are among 64 sustainability initiatives recognized by the STARS program. The STARS rating is valid for three years, so this latest achievement is effective until fall of 2025. Due to COVID-19, institutions were given an extra year to submit. Achieving platinum rating gets harder as universities move forward in the program.
"The STARS report is important because it says that TRU is headed in the right direction," says James Gordon, manager of TRU Sustainability Programs. "Sustainability is about making decisions that factor in environmental, social and economic considerations at the same time. It's not easy, and it's more complex, but in the long run, it's the right thing to do."
With more than 900 participants in over 37 countries, AASHE's STARS program is the most widely recognized framework in the world for publicly reporting comprehensive information related to a college or university's sustainability performance. Participants report achievements in five overall areas: academics, engagement, operations, planning and administration, and innovation and leadership.
TRU's STARS report is available on the STARS website: https://reports.aashe.org/institutions/thompson-rivers-university-bc/report/2022-05-31/
More Campus Life - Kamloops articles
The views expressed are strictly those of the author and not necessarily those of Castanet. Castanet presents its columns "as is" and does not warrant the contents.
Previous Stories