Campus Life - Kamloops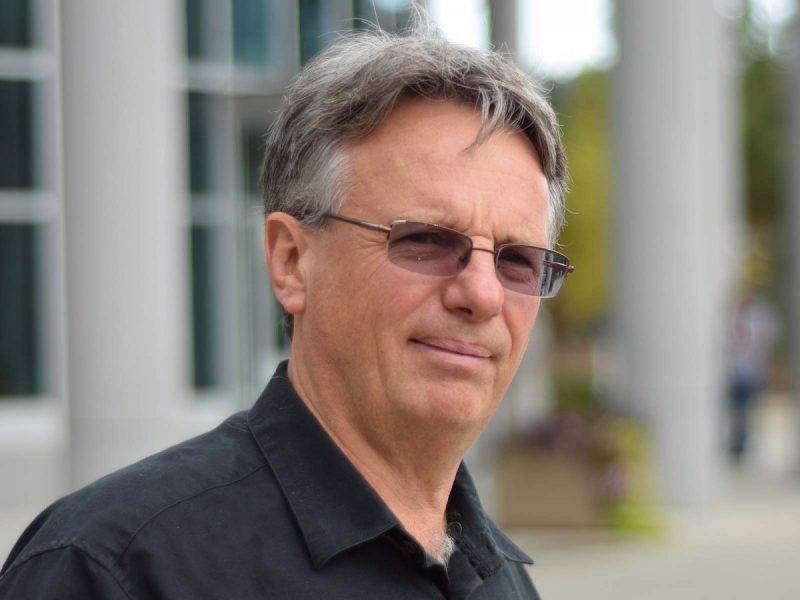 Dr. George Johnson may have completed his screenplay, Peace Pledge, years ago, but as any writer knows, there's rarely such thing as a final edit.
His efforts to polish and perfect his screenplay, however, were given a boost last month, after it won Toronto's Wildsound Film Festival Screenplay Competition. Peace Pledge was recently accepted as an online event featured for the U.N. International Day of Peace on Sept. 21.
Part of the prize for winning the Wildsound festival included a staged reading of the entire script by professional actors. Johnson, Professor in English and Modern Languages, encourages people to view and comment on it, as he finds the constructive feedback valuable. He also hopes the reading draws the attention of film industry insiders.
"I've read it aloud to myself, but I found having that feedback from the reading, and hearing different people read the parts, has been really helpful. The script is still very much an ongoing process."
Peace Pledge, which also received Honorable Mention in the 2015 Euroscript Screenwriting Competition, is based on the true story of Canon Dick Sheppard and the Peace Pledge Union of the 1930s, the strongest pacifist movement in history. Johnson began writing the script in 2012 after he was captivated by the story while conducting research for an academic book on First World War literature.
> Read: Book explores how WWI authors turned to spiritualism to cope with tragedy, InsideTRU, May 26, 2015
"Because the Peace Pledge movement wasn't successful in an outward sense, the story was buried," he said, adding that the script carries a number of lessons that are especially relevant today.
"The story has powerful themes about love, loyalty and freedom, and it is so current for today. People were anxious in the 1930s about another war happening, but the pacifist movement was too late to be effective in stopping dictators like Mussolini and Hitler. If they'd started earlier they might have had a chance.
"I hope this makes people think about the dangers of letting leaders get into power who are war mongers, and who aren't afraid to provoke other countries. There are lots of parallels, and it really shows us how much we haven't learned from our past."
George Johnson has written about a dozen stage-plays, including the award-winning Still Life With Nudes, which won the National Playwriting Award, and The Wonder, a finalist in the British Independent Film Festival and very recently a finalist in the Contest of Contest Winners Competition in L.A.. He has also written several children's stories, one of which, Marissa and the Mountains, will be published by Simply Read in 2019.
More information
George Johnson
250-371-5556
[email protected]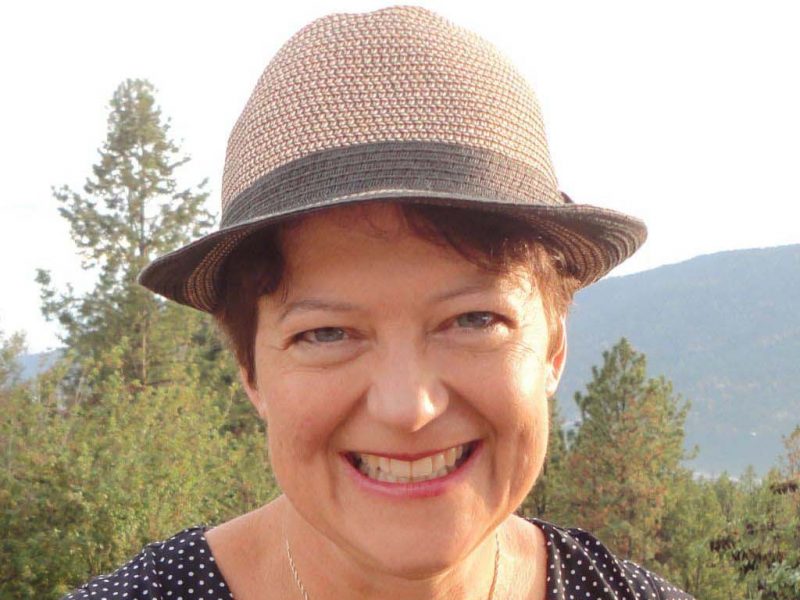 Karen Hofmann's second novel, What is Going to Happen Next, published today (Sept. 15) and is already getting stellar reviews.
"An incisive and deeply satisfying novel about the muscle memory of the human heart."
– Sarah Mian, author of When the Saints.
"Karen Hofmann's What is Going to Happen Next is not another gloomy Can-Lit family saga, but a familiar portrait of our neighbours and friends — maybe of ourselves — weathering the effects of far distant adversity with the same halting, human grace we all share."
– Jennifer Quist, author of Sistering.
The novel, published by NeWest Press, pieces together the lives of four siblings who grew up in rural BC in the 1970s, but who were apprehended by social services and split up after the death of their father and the hospitalization of their mother. Place is vital in this story, as the memories of their childhood in the remote West Coast community of Butterfly Lake give way to their coming of age in Vancouver in the 1990s.
"I was excited to write about Vancouver in the 90s because it was really the last time you could live there and have a dignified life without making a lot of money," explained Hofmann, an associate professor in English and Modern Languages.
"These adults are trying to transcend their backgrounds, and the story is about how they make that transition, as well as about sibling bonds and the effects of social class. It explores the tension between what has happened to them and what they've overcome — with mixed results."
The launch of What is Going to Happen Next is set for Sept. 19 from 7 – 9 p.m. at The Art We Are, 246 Victoria St., and everyone is welcome.
Hofmann's debut novel, After Alice, published in 2014, and another collection of short fiction is expected to publish in 2019. Her short fiction has been published in Arc, Prairie Fire, The Malahat Review and The Fiddlehead.
Read: Debut novel by Karen Hofmann, InsideTRU, March 13, 2014
More information
Karen Hofmann, Associate Professor
250-377-6016
[email protected]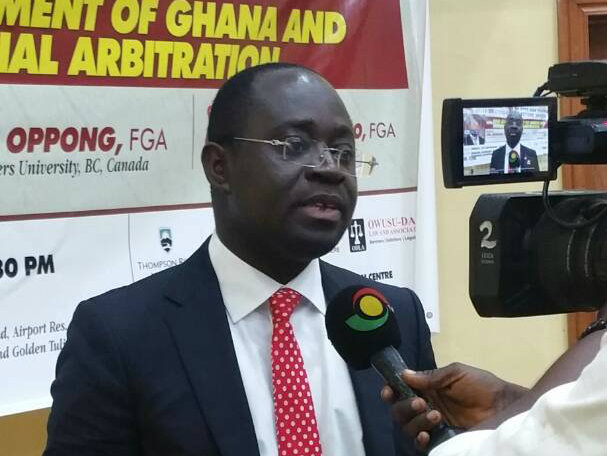 Dr. Richard Frimpong Oppong recently delivered his inaugural lecture at the Ghana Academy of Arts and Sciences (GAAS), after being elected as a member of the prestigious academy last year.
Just weeks ago, Oppong was also named the newest member of the Royal Society of Canada.
GAAS is an independent think-tank for significant national issues, and promotes the study and dissemination of knowledge of the arts and sciences.
Oppong's inaugural lecture, delivered on September 1 in Ghana, was titled The Government of Ghana and International Arbitration.
"Since the dawn of the twenty-first century, at least 12 international arbitration claims have been submitted against the Government of Ghana (GoG). This is a significant number. To date, there has been little or no academic study involving the claims, the arbitral awards resulting from them, and their implications for Ghana," explained Oppong.
"My lecture focused on arbitration between GoG and private foreign individuals, firms or corporations, examining the concept of international arbitration and states' participation in international arbitration. I discuss Ghana's record of actual international arbitration cases, and examine issues such as the costs of international arbitration, participation and legal representation, and the nature of the disputes and awards, closing with ideas on the enforcement of foreign arbitral awards against the government, especially outside Ghana." 
Oppong joins over 100 other lifetime fellows inducted into the Academy, including former UN Secretary General Dr. Kofi Annan, and His Eminence Peter Kodwo Appiah Turkson, president of the Pontifical Council for Justice and Peace at the Vatican. The Academy was established in 1959.
The lecture is available in book form here.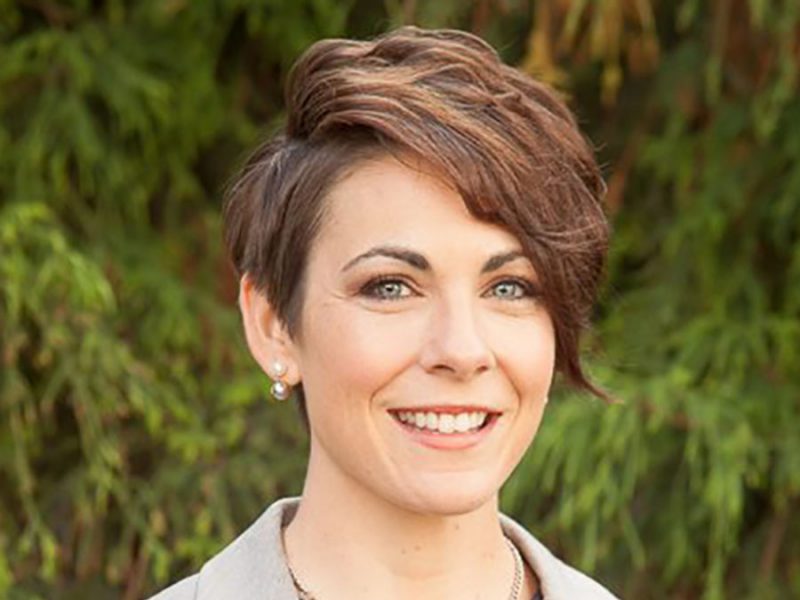 The term jack of all trades shouldn't be thrown around loosely, but when it comes to TRU alumna Sadie Hunter, that's exactly what she is.
Hunter holds a Bachelor of Journalism, a Bachelor of Science in environmental biology and ecology, a Master of Environmental Science and currently works as a director of development in the Office of University Advancement. She can now add accomplished writer to the list as she was recently long-listed for the 2017 CBC Nonfiction Prize. 
The longlist was selected by a team of readers made up of writers and editors from across Canada. This year's panel was Christian Fink-Jensen, Danielle Daniel, Melynda Jarratt, Harold Johnson, Adnan Khan, Sonja Larsen, Philip Moscovitch, Jay Pitter, Laurie Sarkadi and Dorothy Williams.
We caught up with Hunter to learn more about what inspired her story and where she found the time.
You are a very busy women, what made you decide to take on a project like this? When did you find the time?
I made a promise to myself at the beginning of the year to write more for myself, outside of emails and the odd blog post. I managed to find a small window in January when I was stuck at home sick. The entry deadline for this contest was early February so it was perfect timing.
Did you write the piece for the contest specifically, or was it just a good fit?
The contest requires an original piece, so this was written specifically for this contest.
Why did you decide to enter the contest?
I needed a personal challenge. I do almost all of my writing in an abstract space, inside my head—which doesn't make me much of a writer or help build my skills. So I decided to wrestle some of those thoughts out of my head and onto paper.
What was the inspiration behind your story?
This story was inspired by my lived experience as a teenager in northeastern British Columbia. Relocating to a new town and a new community during the adolescent years is a challenge at the best of times, moving abruptly as the result of a divorce, to an isolated, rural town operating on a completely different social norm, is an entirely different animal. I wanted to share my experience as a transplant to this small community, the harsh realities faced by other kids my age and the overwhelming sense of future emptiness.
Who do you hope your story resonates most with?
I think this story will resonate with anyone who has experienced change or isolation, specifically during those confusing teenage years, but anytime really. I think people who have lived in a rural, isolated town will probably identify most strongly with it. There is an element of adolescent isolation and depression I think is important to talk about more, which is one of the reasons I chose to write the story I did.
What was the most challenging part of this process?
Writing. In all seriousness—just finding the time and the headspace to write.
Have you done anything like this in the past?
Never.
What advice would you give others who are interesting in doing something like this?
Just do it—there is nothing to lose but everything to gain. I learned a lot about myself during the process and was forced to think about my experiences through a different lens. I also made new connections and had a new experience.
How are you feeling about the result?
I am feeling pretty over the moon to even be chosen for the shortlist of 29 writers out of over 1400 submissions.
Do you have any other writing projects, novels or stories on the go? What's next for Sadie Hunter's writing career? 
Nothing substantial. I will be dusting off and flushing out some material this fall/winter.
About the 2017 CBC Nonfiction Prize
The winner of the 2017 CBC Nonfiction Prize will receive $6,000 from the Canada Council for the Arts, will have an opportunity to attend a 10-day writing residency at the Banff Centre for Arts and Creativity and have their story published on CBC Books and in Air Canada enRoute magazine. Four finalists will receive $1,000 from the Canada Council for the Arts and have their story published on CBC Books. 
More Campus Life - Kamloops articles
The views expressed are strictly those of the author and not necessarily those of Castanet. Castanet presents its columns "as is" and does not warrant the contents.
Previous Stories