Campus Life - Kamloops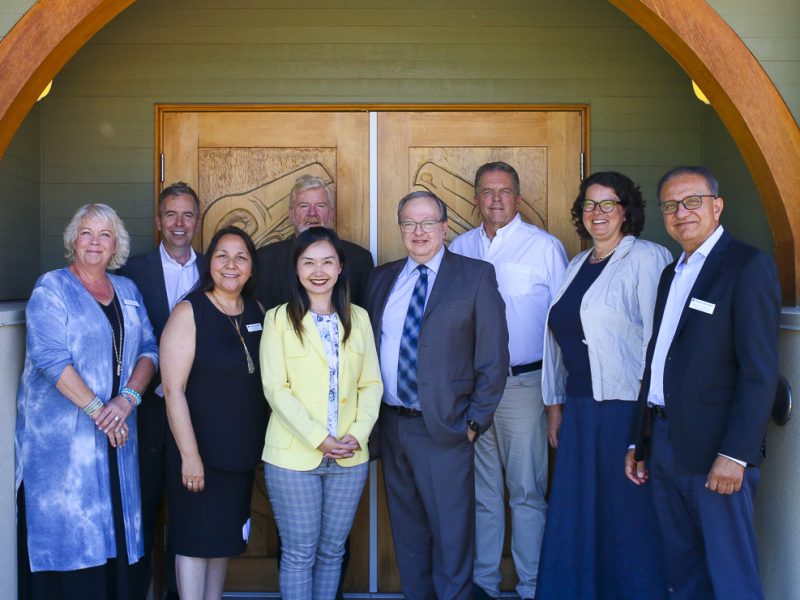 Anne Kang, BC's Minister for Advanced Education and Skills Training, visited TRU's Williams Lake campus Thursday to learn more about TRU's programs, partnerships and role in supporting student and community needs.
She also held an informal meeting with students to hear about their learning experiences, and met with electrical contractors who are working on converting a room to a Nursing Simulation Lab for the TRU nursing program. Kang was also interested to learn more about Williams Lake's support for in-demand occupations identified in BC's labour market outlook, including jobs in trades and health care.
A contingent of TRU executives hosted the tour, including President Brett Fairbairn, VP University Relations Brian Daly, and Dean of Trades and Technology Baldev Pooni. The minister was be accompanied on her visit by Assistant Deputy Minister Nicola Lemmer and Executive Assistant Jocelyn Fan.
Other TRU leaders present included Bryan Daly, associate dean in Williams Lake; Alison Sutherland-Mann, Continuing Education community co-ordinator; Geraldine Bob, co-ordinator of Indigenous Student Services; and Mark Nairn, the chair of TRU Grit, a community support group for the Williams Lake campus.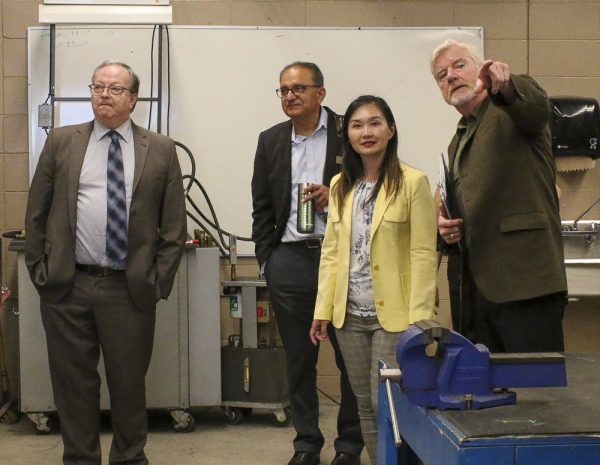 Presentations and discussions with the minister focussed on how TRU meets the needs of the Williams Lake community and students in the region, particularly Indigenous students, and how TRU supports post-COVID economic recovery in BC.
This week, Minister Kang made two announcements impacting TRU. On July 25, she announced new funding for community adult literacy programs in 128 communities across BC. TRU is a funding recipient, including Williams Lake.
On July 26 the Minister announced new pathway programs at 11 public post-secondary institutions, including TRU.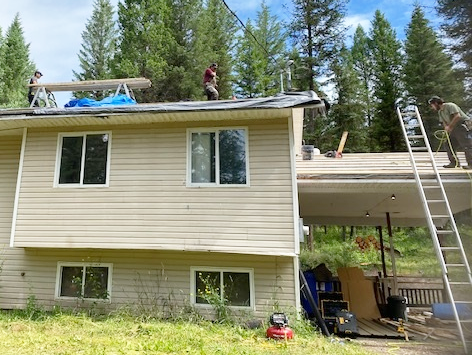 Over the past 12 weeks, a group of Indigenous students have rolled up their sleeves exploring the trades. Enrolled in the School of Trades and Technology's Trades Sampler Program at Thompson Rivers University's (TRU) Williams Lake campus, the students are getting practical trades experience while revitalizing the historic Soda Creek Emporium near Xat??ll Heritage Village north of Williams Lake.
Designed for students without trades experience, the three-month sampler program provides skills training in three construction-related trade: carpentry, plumbing and electrical.
"Students are also part of the Residential Building Maintenance Worker program, supported by the Industry Training Authority, which leads and manages BC's trades training and apprenticeship system," says Heather Hamilton, associate director of Community Education and Workforce Training at the School of Trades and Technology. "So, they're being introduced to drywall, trim, siding and roofing while renovating houses in the area."
The School of Trades has run more than 30 sampler programs in Indigenous communities over the years. "Typically, we run eight to ten programs every year, each of which develops much-needed hands-on skills and provides employment opportunities for Indigenous students," she adds.
Future in trades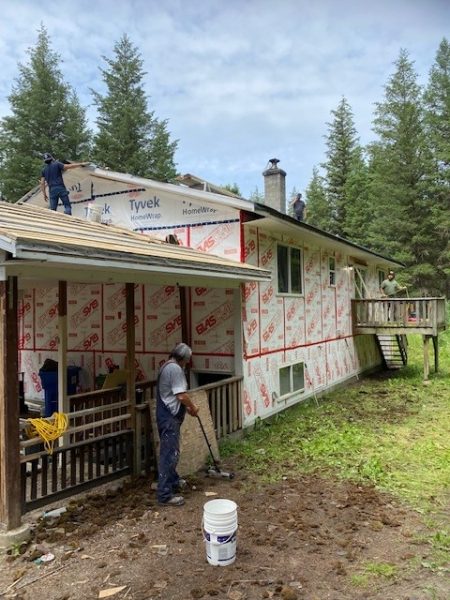 In Williams Lake, Continuing Studies Community Co-ordinator Alison Sutherland-Mann talked with four students – Basil Plant, Justin Hutchinson, Tye Jeff and Denny Sill – as they near completion of the program.
"They said the experience has been very positive, and they've learned many things," says Sutherland-Mann.
"They've been undertaking renovations, so taking everything apart and putting it all back together, only better, plus doing siding and roofing. They all agree that this is a good fit for them. They enjoy the work and say they will continue to work in the trades."
Sutherland-Mann says the students will likely be hired by contractors from Xat??ll.
The multi-million-dollar Xat??ll First Nation project, which began on May 2, includes the rejuvenation of the emporium's once-thriving restaurant and the development of a gas station, convenience store, museum and electric vehicle charging stations at the site. It is expected to take a year to complete.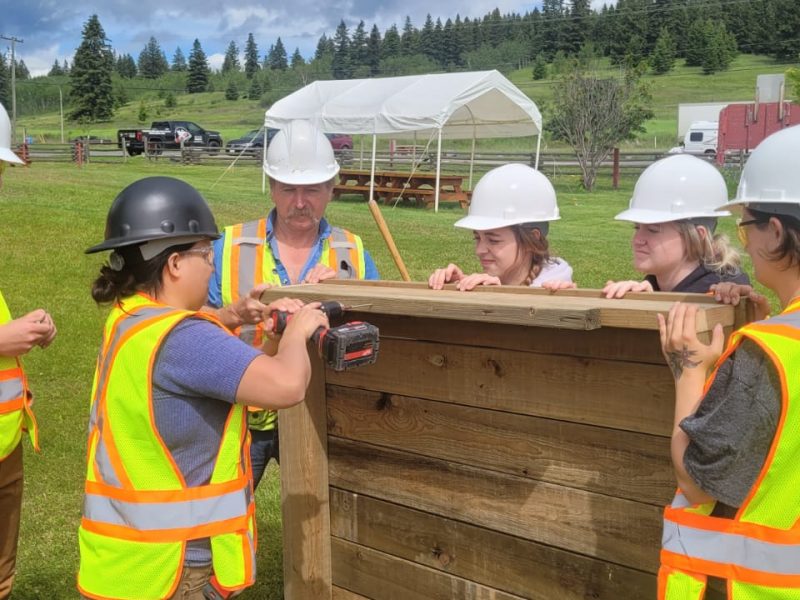 A group of 11 students are the first participants in a Women in Trades (WIT) Exploratory Program from Thompson Rivers University (TRU) to be held in 100 Mile House.
And for the first two weeks of that two-month program, students are doing carpentry work on the 108 Mile House Heritage Site, a historical site and museum that nods back to the agricultural history of the region.
One of the program participants, Kayla Nasby, said she was interested initially because she had done some renovation projects. But it has quickly grown to be more than that.
"From this program I am hoping to get some experience in the carpentry trade and also to make more connections with people in the trade so I can have more opportunities at a better career," she said.
"I love working for a non-profit organization and giving back to the community, but also being able to show my kids the project we have built and to leave something behind that I was a part of."
The program is supported by the BC Government's Economic Relief Funding and the Industry Training Authority and delivered by TRU to develop more skilled tradespeople in communities. Currently, 4.5 per cent of BC trades workers are women.
The WIT exploratory program for 100 Mile House quickly filled up, indicating the interest and need in that community. It is delivered through TRU and School District 27, being taught at the local high school, the 100 Mile House Regional Centre and in the community.
School of Trades and Technology Dean Baldev Pooni said the program is changing the lives of students through skills development and a chance for a meaningful, rewarding careers.
"I am thrilled with the opportunity the students have who have committed to the program. I hope they find passion in a trades career while strengthening the local workforce and economic development prospects," he said.
Demand for skilled trades is growing
With a shortage of skilled trades workers expected to reach 15,000 in BC within the next three years, it's a great time to explore trades careers.
Marie Weisbeck, community co-ordinator for TRU Community Education and Workforce Training, said the program is a gateway for changing the lives of the participants, while contributing to the community through the local procurement of program supplies.
This program builds community partnerships, from working on local not-for-profit projects as a part of learning carpentry skills, joining with SD 27 to support the program resource needed for the welding and mechanical portions, and meeting with local industry representatives to introduce women potential job opportunities.
"Programs like this are very important for a community like 100 Mile House, as they are a primary industry community and the more exposure and experience provided for young people, especially young women, is empowering for them in potentially pursuing a career in trades.," said SD 27 Co-ordinator of School Programs David Corbett.
"When the program was announced in Peter Skene Ogden secondary school, a number of students became excited and signed up right away. It seemed that they couldn't take advantage of trades opportunities during school but facing graduating, they jumped at the opportunity to get involved in such a program. With TRU 's organization, personnel and ability to keeps costs to a minimum it was the ideal opportunity for these young ladies."
TRU's School of Trades and Technology has a long history of offering previously delivered Women in Trades in Kamloops, Merritt and Barriere. More than 90 per cent of participants continue their trades education and careers.
Donna Barnett is president of the South Cariboo Chamber of Commerce and director of the 100 Mile House and District Historical Society. She was grateful for TRU's investment in the community.
"As a director of the 100 Mile and District Historical Society, the work of the students and TRU will be a legacy to enhance the 108 Heritage Site," she said.
Nasby said after only one week in the program, she is already looking ahead for a career in trades.
"From this program, I am hoping to get some experience in the carpentry trade and also to make more connections with people in the trade so I can have more opportunities at a better career," she said.
"So far, I have loved every moment of it, from the information I'm learning, to the people that I have had the opportunity to work with, to the hands-on approach of learning.
For me, this is an opportunity of a lifetime and I'm so honored to be a part of it."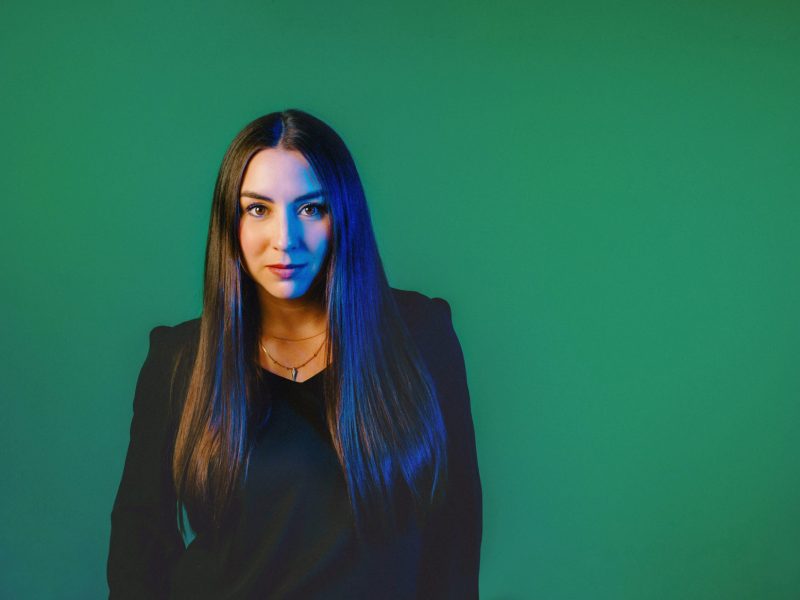 "Always use your voice for what you believe in," says Korah DeWalt, Indigenous relations and community superintendent for New Gold's New Afton Mine, a gold, copper and silver mine about 10 km west of Kamloops.
The 2011 Bachelor of Business Administration (BBA) alum has followed this piece of advice throughout her career, influencing social change within her company and community.
DeWalt's role involves a high degree of internal reflection and making sure the organization upholds its values. "It's about asking: How are we good partners to the communities we operate in?" she says.
In other words, she makes sure the people, programs and processes at the mine meaningfully engage with the local communities of Kamloops and their partner the Stk'emlúpsemc te Secwépemc, which includes Tk'emlúps te Secwepémc and the Skeetchestn Indian Band.
From student to superintendent
Thanks to the encouragement of one of her professors, DeWalt pursued a summer internship with New Gold in 2010.
Eager to apply the lessons she learned during her BBA in human resources, she soon secured the position and absorbed everything she could from the opportunity. She returned for her final year with tangible experience that not only honed her HR skills, but also increased her interest in New Gold.
Today, she's been with the company for over 10 years — a milestone that signifies her commitment to both company and community. Throughout this time, DeWalt has made several internal movements, allowing her to discover her passion and grow alongside the company.
After being exposed to the community portfolio while in HR, she was hooked. The community portfolio moved to the environment department following organizational restructuring and DeWalt stayed on for the transition, diving deeper into community relations and refining her role. Shortly after, she was provided with a professional development opportunity and became the First Nations co-ordinator at New Afton.
Now, as Indigenous relations and community superintendent, she has a unique and intimate view of the department's growth, including its relationships with community groups. DeWalt has seen the growth of these relationships firsthand. A perfect example is the evolution of a 2008 Participation Agreement with Stk'emlúpsemc te Secwépemc into a Co-operation Agreement — the latter being more collaborative and inclusive in nature.
The key to this growth? People. "About 80 per cent of our workforce comes from the local area," says DeWalt. "It's not only a question of what the mine is doing to be socially responsible, it truly matters to the employees themselves."
She is no exception. As a member of Tk'emlúps te Secwépemc, she was born and raised in the area, giving her a unique drive to invest energy into her work.
Advocating for inclusivity
Her dedication to social responsibility and influence in the industry extends well beyond New Afton. DeWalt is also a director on the board of the BC Chamber of Commerce and sits on its equity, diversity and inclusion task force, something she's passionate about.
As an advocate for females and Indigenous communities, DeWalt works hard to make sure everyone feels included.
"It's not just about giving everyone a voice at the table, it's also about acknowledging and listening to all those at the table," she says.
These principles all play into one of her favourite projects thus far: launching the Beyond New Afton project. Beyond New Afton is an engagement initiative with community of interest groups to develop a social closure plan for when the current expected life of mine ends in 2030. New Gold's ongoing exploration efforts at New Afton could potentially extend the life of mine beyond 2030. 
The project has provided a platform for employees and community groups to voice their concerns and provide input into the planning process, helping New Gold minimize any negative impacts and develop social support programs that are designed by and for the communities they serve.
We want to hear your story. Connect with TRU Alumni at [email protected].
More Campus Life - Kamloops articles
The views expressed are strictly those of the author and not necessarily those of Castanet. Castanet presents its columns "as is" and does not warrant the contents.
Previous Stories