Campus Life - Kamloops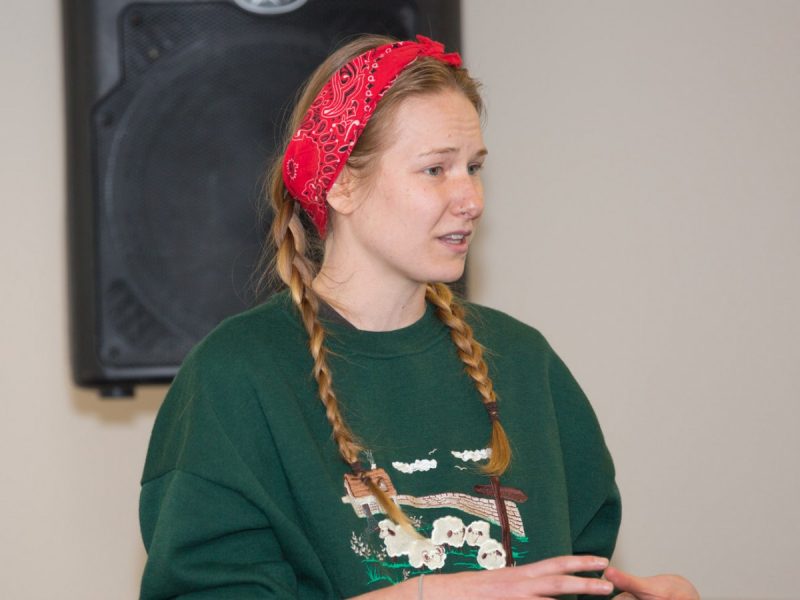 Valerie Law spent a summer working with rattlesnakes, so she doesn't scare easily.
But she admits to being slightly nervous standing in front of the crowd, and staring at a timer gradually ticking down from three minutes during the inaugural In A Nutshell undergraduate research communication competition.
"It was an eye-opener on how stressful it is to be timed, but I think it was also a really good experience to take something really scientific and to package it up into a format that anyone can appreciate," said Law, who took top honours and was also voted People's Choice. Gabe Carpendale, who is completing a Bachelor of Interdisciplinary Studies, was awarded second place for "Human development in alternative leisure contexts."
Funded by an NSERC Undergraduate Student Research Award, Law, who will graduate this spring with a degree in Natural Resource Science, spent a summer building artificial habitat within a vineyard in Oliver, BC. The goal of the research was to discover whether snakes would use these habitats, which they did.
BC's rattlesnakes are listed as threatened, and are often persecuted out of fear.
"We're converting a lot of their habitat into houses and agriculture, and this was the first study of its kind to look at what we can do to incorporate the habitats that these reptiles need.
"We need to make these species a priority on the landscape," Law said.
It was her passion for the subject that  prompted her to participate in In A Nutshell.
"It's really important when we have our scientific findings, to learn how to convey those findings to everyone so that everyone can become excited about it."
Alex Wilson, an Undergraduate Research Ambassador, and one of the event coordinators, called the event a complete success, and is confident it will be repeated next year.
"We all knew about the 3MT, and I thought this would really bridge the gap. This event is only going to get bigger and better!"
In A Nutshell participants
| | | |
| --- | --- | --- |
| Valerie Law | Natural Resource Science | If you build it will they come? Snake use of artificial refugia within an industrial scale vineyard |
| Gabe Carpendale | Bachelor of Interdisciplinary Studies | Human development in alternative leisure contexts |
| Nikola Klassen | Bachelor of Arts | Perihand space: a positive feedback loop for the early development of visually-guided reach and grasp movements |
| Teagan Lauriente | Bachelor of Arts | Cross-Modal Integration of Emotional Audio/Visual Stimuli is Bidirectional |
| Brandon Christy | Bachelor of Arts | Economics of geoengineering |
Imagine you live with multiple sclerosis—an unpredictable, chronic illness—and due to your symptom load you are unable to continue working. Aside from managing your health condition, you must now also navigate complex disability application forms. It's an overwhelming time to be sure.
A trio of TRU Law students is helping to make it easier for individuals in this situation.
"Students help with disability applications such as Canada Pension Plan Disability (CPP-D), Persons with Disabilities (PWD), Disability Tax Credit (DTC) and Long Term Disability (LTD)," said Nyssa Lessingham, Volunteer Legal Assistance Program (VLAP) Coordinator with the MS Society of Canada (BC & Yukon Chapter).
"This is a very stressful point in the client's life. Having people help them navigate this helps to relieve that stress," she added.
VLAP partners with law students through Pro Bono Students Canada (PBSC), which established a chapter at TRU in fall 2017.
Second-year law student Judith Acevedo says the experience working with real clients, who have a very real and pressing need, was both challenging and rewarding.
"It's a big deal for them. You don't want to miss anything. It's a sensitive topic and they have to share in detail," Acevedo described of questioning the client about how the illness affects them.
The students' role is to work in pairs with a client, over the phone, one asking questions and the other recording notes.
The practical experience of interviewing clients adds to the students' tool kit. Plus, Acevedo says asking questions strictly over the phone adds an element of complexity as clarity is essential, yet facial cues and body language are absent.
"Over the course of several interviews, the students assist their client to articulate and document their symptoms. They are creating a thorough and clear description of their symptoms and how it impacts their life," explained Lessingham.
"That document becomes an addendum to the disability application. Ultimately, we are trying to demonstrate how their circumstances match with the disability benefit's eligibility criteria," she said.
Lessingham and her team review the application before it is submitted. From there the process can be quite lengthy—three to four months of waiting for a decision.
While the seven clients that TRU students worked with since last fall have yet to hear a decision, applications that go through VLAP do have a high success rate.
"The Auditor General of Canada's 2015 report found that nationally, 43% of applications for CPP-D are denied. Through VLAP,  in 2017, we had a 92% approval rate for CPP-D applications," Nessingham said.
"Each year our case load increases. We couldn't assist the number of clients we do without our volunteers."
The VLAP program, which currently only serves the BC and Yukon, is expanding, as the MS Society of Canada gets set to roll out a national program this year.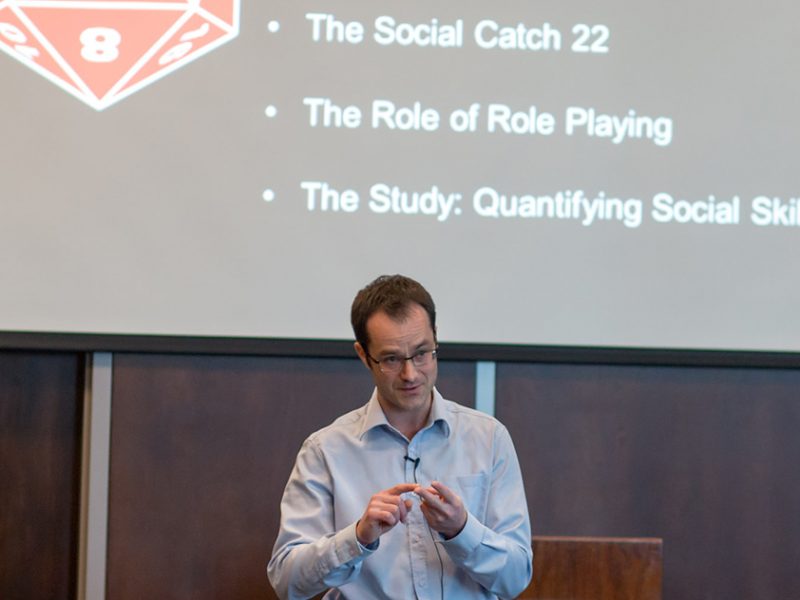 Dungeons & Dragons — is it a game, or is it a tool for teaching socially isolated children how to engage in conversations?
Graeme Hallett says it can be both, and after wowing the judges with his Three Minute Thesis presentation, "Dungeons and Dragons Develops Social Skills," he is now $1,000 richer, and will represent TRU during the Western Canadian 3MT Finals scheduled for April 27 at the University of Regina.
Hallett, a Master of Education student, drew the judges in with his opening description of the Catch 22 that socially isolated children find themselves in.
"If you lack conversational skills, you can't take part in a conversation, and if you can't take part in a conversation, you can't learn conversational skills. This is how you end up socially isolated, and it's a miserable place to be."
Missed the 3MT? Watch the Livestream
For teachers, these kinds of skills are complicated and difficult to teach, but Dungeons & Dragons could be a game-changer.
"If you're somebody who never knows what to say or when to say it how are you supposed to take part in a game that is an enormous conversation? This is where it helps to have rule books, and dice," Hallett said, explaining that his research will track and compare learning improvements using Dungeons and Dragons as an entry point to conversational skill training, versus traditional learning methods.
The judges, Donovan Cavers, Councillor, City of Kamloops, Danalee Baker, Executive Director, United Way Thompson Nicola Cariboo, and Andrew Cooper, Artistic Director, Chimera Theatre, were wowed by Hallett's presentation skills and by his ability to engage the audience.
"It was interesting, and spoken with passion," said Cooper.
For the first time in TRU's five-year 3MT history, there was a two-way tie for second place. Janelle Paulson, MSc, was awarded for "Drying Up: The effects of long-term drought on the invasiveness of Spotted Knapweed in BC," alongside Kelsey Boule, MSc, for "Ethical issues in sport hunting and conservation economies in British Columbia, Canada." Paulson was also voted People's Choice.
What is 3MT?
The first 3MT was held at the University of Queensland, Australia, in 2008 with 160 students competing. Since 2011 the popularity of the competition has increased and 3MT competitions are now held in at least 170 universities across more than 18 countries worldwide. There are 32 universities in Canada competing in the event.
3MT presenters
| | | |
| --- | --- | --- |
| Florence Iyogun | MBA | Analysis of Earnings Management Practices of Listed Companies on TSE |
| Dominique Hazel | MSc | Environmental Practices at Music Festivals in British Columbia: Examining Stakeholder Power Relations to Build Effective Partnerships and Foster Sustainability and Foster Sustainability |
| Kelsey Boule | MSc | Ethical Issues in Sport Hunting and Conservation Economies in British Columbia, Canada |
| Syeda Parvin | MEEM | Relationship between Capital Structure and Financial Performance of Micro-Finance Institutions (MFIs) in Bangladesh |
| Kile McKenna | MSc | Communicating with colour chemistry |
| Tallal Althwaini | MBA | Saudization and the Retail Industry |
| Janelle Paulson | MSc | Drying Up: The effects of long-term drought on the invasiveness of Spotted Knapweed in BC |
| Satvir Kaur | MN | Resilience in New Nursing Graduates |
| Zixing (Lisa) Shen | MEEM | How Emission Permit Trading Policy Impact Air Pollution Hot-spots in Ontario |
| Meera Munusamy | MBA | The effect of carbon dioxide emission on GDP & Technology across ASEAN countries |
| Graeme Hallett | MEd | Dungeons and Dragons Develops Social Skills |
More information
Danna Bach, Research Communications
250-371-5676
[email protected]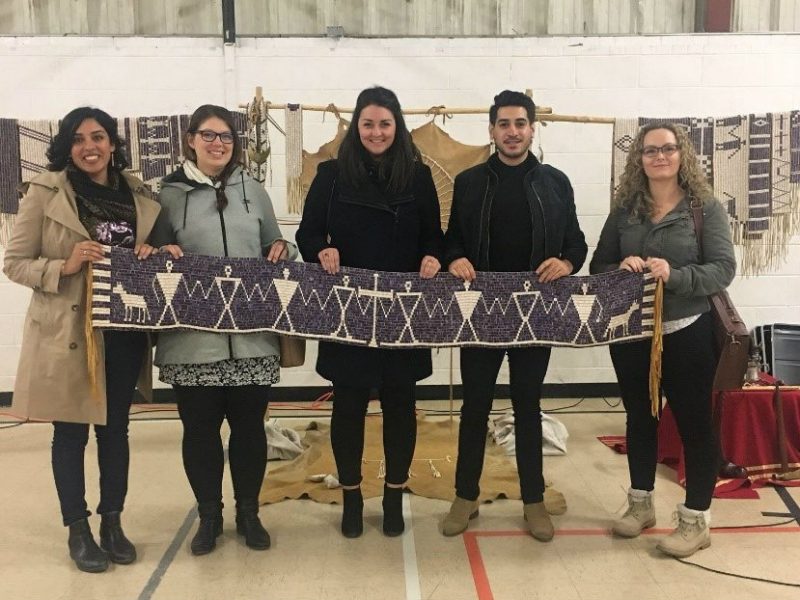 TRU Law's moot participation continues to grow. This year, the law school sent a total of five teams of mooters to various competitions across Canada.
BC Court of Appeal Moot
On February 17, TRU Law participated in the BC Court of Appeal Moot at the Vancouver Courthouse. The teams argued over a case involving the dismissal of a police officer, and worked with Professor Craig Jones, QC, an experienced litigator in his own right, to prepare for the moot.

Prior to the competition, the team spent the week in Vancouver, watching appellate hearings and practicing their oral submissions with other lawyers. Their hard work paid off as they tied for first place for their written factum. At the hearing itself, Elizabeth Cunningham (2L) was the second-highest ranked oral advocate, while Deryck Harry (3L) placed fourth. Chief Justice Bauman noted that Cunningham, in particular, made the courtroom "her own."
MacIntyre Cup
On Feb. 16-18, TRU Law sent a team to Winnipeg, Manitoba, to participate in the MacIntyre Cup, which focuses on trial advocacy skills. Jayde Niefer (2L) and Cassandra Tam (2L) were coached by Crown prosecutors Frank Caputo and Don Mann. The students learned how to conduct direct examinations and cross-examinations of witnesses, pre-trial interviews, and provide opening and closing statements. They also worked to master the art of objecting in a courtroom. Much of the moot involved working with witnesses, such as presenting exhibits, refreshing their memory and impeaching their testimony.

Niefer emphasizes the practical aspect of the mooting experience. "You can watch moots and trials and read cases in as many textbooks as you want, but you can never truly understand how to run a trial until you actually participate in one," she said.  In particular, she says she learned two important lessons. "First, your trial is never going to go how you plan, so you must be able to adapt and think quickly on your feed. Second, be confident in what you are doing and in the knowledge you have. If you know that what you are saying is correct, and you have a sound basis for your stance, don't be too quick to back down and agree with other lawyers or judges telling you that you are wrong."
Jessup Moot
For the first time, this year TRU Law sent a team to compete in the Philip C. Jessup International Law Moot Competition. This year's competition was held in Fredericton, New Brunswick, on Feb. 22-24 and included 14 teams from across the country with two of these teams pleading in French. The team was coached by Assistant Professor Ryan Gauthier, and Vancouver lawyers Laryssa Borowyk and Greg Pun, QC. Before travelling to Fredericton, the team traveled to Vancouver for two days of intense practice in front of members of the Vancouver bar, where the team was put through their paces.

Once arriving in Fredericton, the team was met by TRU Law Dean Brad Morse, who came to lend the team support in their inaugural Jessup competition. They got to work, arguing a case that involved unmanned underwater vehicles, nuclear submarines, and review of an international arbitration award. The team says it was an experience that will benefit them long term. "The skills, networking and friendships offered by this competition have helped prepare us for our future legal careers in ways courses never could," they said. The Jessup Moot is notable for its lifelong community who return to the moot as coaches and judges. "The Jessup Moot community is an amazing and welcoming group, and once you are a part of it, you are a member for life."

Kawaskimhon Moot
On March 2-4, five students participated in the Kawaskimhon National Aboriginal Moot, hosted at McGill University in Montreal. Unlike other moots, the Kawaskimhon is in a multi-party negotiation format rather than litigation. This year's negotiation centred around the conflict between the People of Kanesatà:ke, the Municipality of Oka, and the Province of Quebec—which erupted in the real-life "Oka Crisis" in 1990. TRU's teams were tasked with representing one of six parties to a negotiation for the purposes of negotiating a process for the protection, care, and control of Indigenous cultural heritage artefacts in areas belonging to the Province.

Both teams were extremely successful in steering the negotiation towards consensus on several items that benefited their parties' interests. The teams were able to determine their success based on how many aspects of their submitted policy proposals were achieved, which equalled roughly 90% of each team's proposed policy.

The Kawaskimhon Moot provided the teams with an opportunity to delve into some of the intricacies of Aboriginal and Indigenous law, a topic that can be very complicated and intersects many areas of law. The experience also allowed each team member to gain valuable experience in negotiation while honing their own negotiation style. Negotiation is a necessary and inescapable aspect of the legal profession and the 2018 Kawaskimhon team found this experience invaluable to their skill development as budding lawyers.  The team was coached by Associate Professor Janna Promislow and TRU Law alumni and local practitioner Chrystie Stewart.
Wilson Moot
A group of TRU Law students who recently participated in the Wilson Moot took top prize for their written argument. Read the full story here. 
More Campus Life - Kamloops articles
The views expressed are strictly those of the author and not necessarily those of Castanet. Castanet presents its columns "as is" and does not warrant the contents.
Previous Stories