Campus Life - Kamloops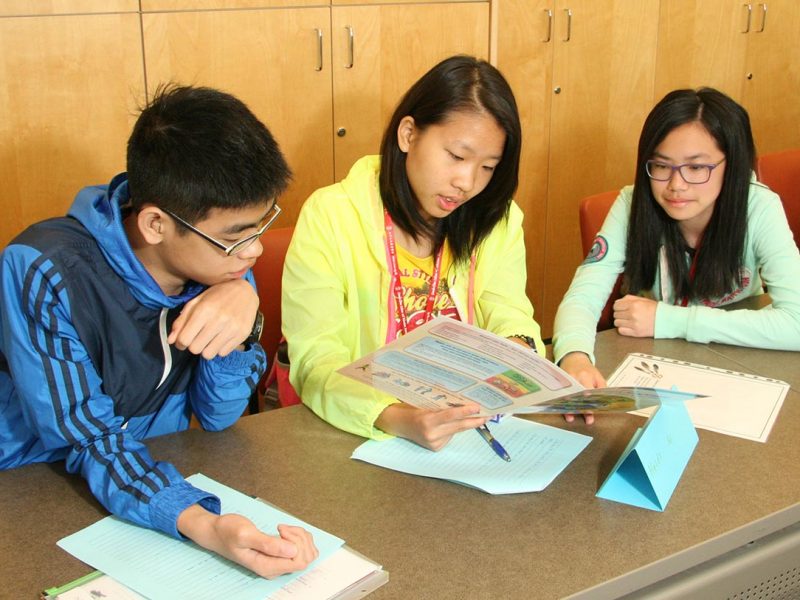 Flurries are in the forecast for the rest of the summer at TRU — flurries as in hundreds of international students on campus for short-term immersion classes ranging from one to 16 weeks.
The visitors are 13 to 25 years old and are here to improve their English reading, writing, listening and speaking skills. Solo and group class time is balanced with field trips in town and elsewhere and lasting as little as a few hours to a day or two.
More than 720 students will be here over the summer, with more than 300 of them from Hong Kong. Others are from China, Colombia, Honduras, India, Japan, Korea, Mexico, Panama, Russia, Saudi Arabia, Spain and Ukraine.
"Because we are competing with universities around the world, we have to offer something many others don't," said Lori De Frias, manager of TRU World's International Training Centre (ITC).
"I strongly believe the support we provide our students, plus the engaging active lessons taught by our committed staff are our strengths. Our goal is for students to gain a better understanding of Canadian culture while increasing their overall English proficiency."
New this year is the Visiting Student Program. In these 12-14 week sessions, students take three courses from the ITC — leadership, intercultural communications and global employment skills — followed by an Open Learning course.
In September, 50 students from Tainjin University of Technology will be here for two semesters and take the three ITC courses and five customized courses taught by faculty in School of Business and Economics.
Off-campus trips and destinations include Banff, Vancouver, North Barriere Lake Resort, horseback riding at Erin Valle Riding Stables in nearby Barnhartvale, indoor rock climbing, Wells Grey Provincial Park, local wine tours, Atlantis Waterslides in Vernon, Paul Lake, Sun Peaks, Treetop Flyers zipline in Chase and Margaret Falls in Herald Provincial Park.
Adding to the economy
The short-term programs have a rich history at TRU, growing from 24 students the first year in 2009 to the hundreds today.
And with the visitors comes economic impacts to Kamloops, the region and beyond. With the average tuition being $2,500, the money flows into the community as:
Wages for 42 teachers, with most of them being grads of TRU's Teaching English as a Second Language program
Compensating the 215 local households billeting students through TRU's Homestay program
Students staying in dorms
Chartering local bus companies for field trips
Hiring local companies and suppliers whenever possible
Spending money the students bring themselves, ranging from the suggested minimum of $200 to a few thousand.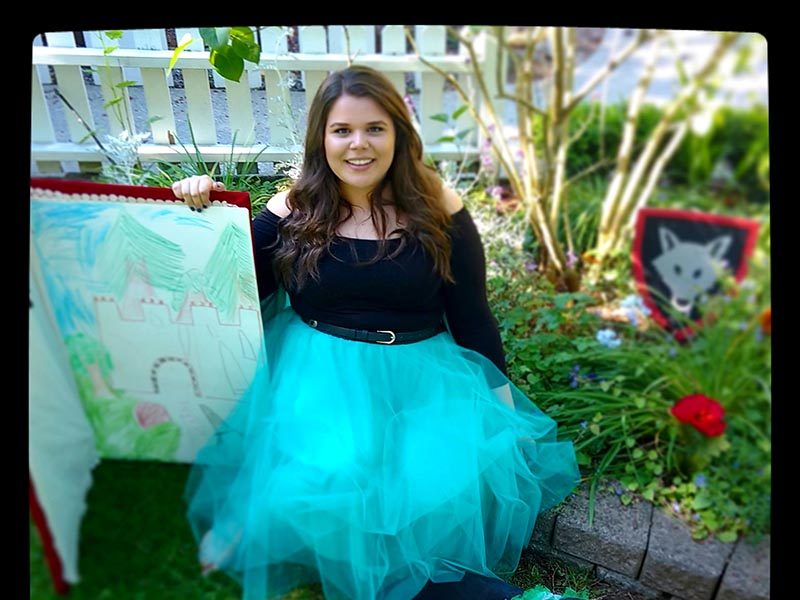 History is anything but dusty, dull and dead for arts student Petra Maior, who this summer is bringing the past to life for children visiting the Pitt Meadows Museum.
Studying European and Canadian history, alongside archaeology and anthropology, Maior has been hired for the summer as the museum's children's programmer and among other projects, is responsible for the popular Heritage Thursdays for five to 10 year olds. The program blends traditional learning techniques and hands-on activities, which provides children with a dynamic experience, a better understanding of the past and an appreciation for why the past is important.
"We are exploring the unknown mysteries of urban legends, folklores, mythical cities and creatures through games, crafts and lessons," Maior said of this summer's theme of Imaginary Places and Mythical Creatures. "These activities allow children to create an outlet for their imagination while having a good time, but still learning a few things along the way."
Heritage Thursdays started July 7 and runs through Aug. 18, and during that time, children will explore Bigfoot, Atlantis, Oz, the ancient wonders of the world, Greek mythology and First Nations stories.
Her position is being paid for through a federal program to hire university students and she is one of three students at the museum this summer.
How did she hear about this great opportunity?
"I have been looking for a job like this for quite some time now, but nothing had come up, or I found postings that made it a requirement to have prior work experience in this field," said Maior. "So one day I was looking on the Young Canada Works page and there it was. I decided to just apply and see what would happen. I am so grateful and so lucky to have received this kind of position, especially since I know the impact this will have on my future and the children that attend these programs.
And as it turns out, this experience is also providing insight into the career path she intends to follow after her arts degree.
"With a hope of becoming a teacher, this position allows me to get a glimpse of activity planning that is fun for children, yet educational. This position allows me to continue doing what I love and is guiding me towards my future career."
Getting career experience while still in school echoes what more and more employers are seeking in university graduates.
In a speech to the Universities Canada Governing Council Chamber in April, Royal Bank of Canada's president and chief executive officer Dave McKay spoke of the need for relatable work experience before graduation.
"I believe we need to start with an audacious, national goal to ensure 100 percent of Canadian undergrad students are exposed to some form of meaningful experiential learning before graduation," said McKay.
"Rightly or wrongly, one's first big job often depends on who you know. Work placements get students in front of employers and acts as a social leveller."
---
NOTE: Parts and pieces of this article can be found in the article "Looking Back: Summer at Pitt Meadows", which was published in the June 29, 2016 edition of the Maple Ridge & Pitt Meadows News.
---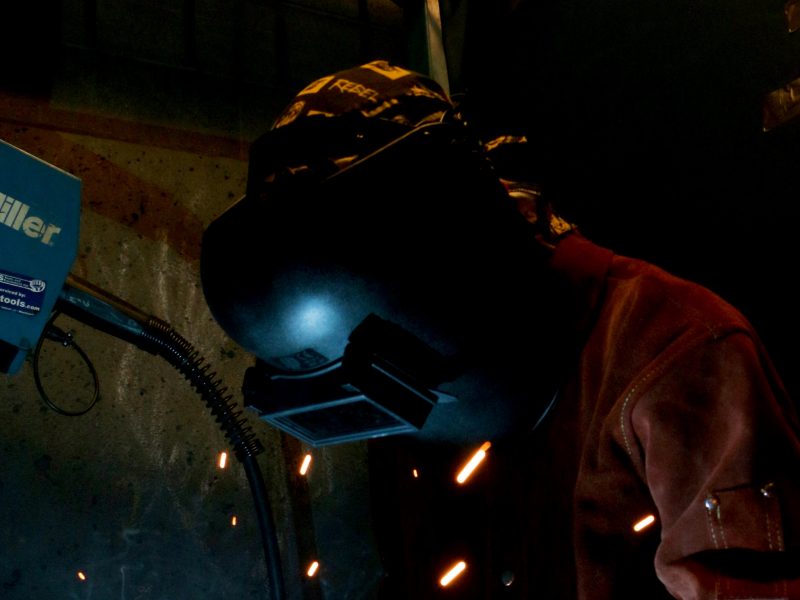 This week has been a bit like traveling back in time for welding student Adam Hildebrand.
The recent grad of TRU's welding foundation program is spending this week helping with a youth welding camp at TRU and is finding a lot of the material being covered, he was introduced to a few months ago.
"The camp has been a bit of a recap of the stuff we did six months ago at the beginning of our program," said Hildebrand, who is now pursuing a welding apprenticeship. "It's been cool working with the kids because a lot of them already have shop experience and it was neat to see how quickly they can grasp what they're learning. Some of the kids were so far ahead of the others because of their previous experience."
Presented by the Canadian Welding Association Foundation (CWAF) the camp is free for those 12-15 years old. Under the guidance of a head instructor, campers learn theory and safety and to reinforce both, create projects testing such things as their understanding of weld symbols, shaping metal, joining pieces and planning projects from start to finish. Most of the 19 campers this week are from Kamloops.
Campers make their way around the tools alone or in pairs and the enthusiasm is contagious. They display the poise and confidence needed to work in a shop while giving the machinery the required respect for the dangers they pose if used improperly.
Tamis Linton is another assistant and has been wowed many times this week by the experience and enthusiasm.
"The kids have been phenomenal and they're super interested," said Linton, who is also pursuing a welding apprenticeship. "They're interested in trying things they've never tried before and they know a lot more than we were expecting. We're able to leave them by themselves, which is something we weren't expecting. We thought we might have to micro-manage everything, but we're pretty much able to give them the project and they run with it. They're doing really, really well."
Overseeing the instruction and assistants is welding faculty member Jim McCarthy. With 47 years in the trade, he never tires of working with enthusiastic learners.
"As an instructor, it's always satisfying to see a student's project come to a successful completion through their hard work and dedication," said McCarthy. "The pieces they make cannot be replicated and are truly unique. The goal for me is to pass on my skills to the next generation. I gained my skills from my elders and mentors in the workplace and I feel very strongly that I must carry on the tradition of my trade's guild and of this incredible trade of fabrication, welding and art creation."
The camp is transformative and that's what the CWAF is looking for, said CWAF Executive Director Deborah Mates.
"When they finish they'll have great memories and hopefully feel inspired to pursue a career in the welding profession," said Mates. "We are excited to be able to bring this opportunity to the provinces and expose youth to something they may never have imagined."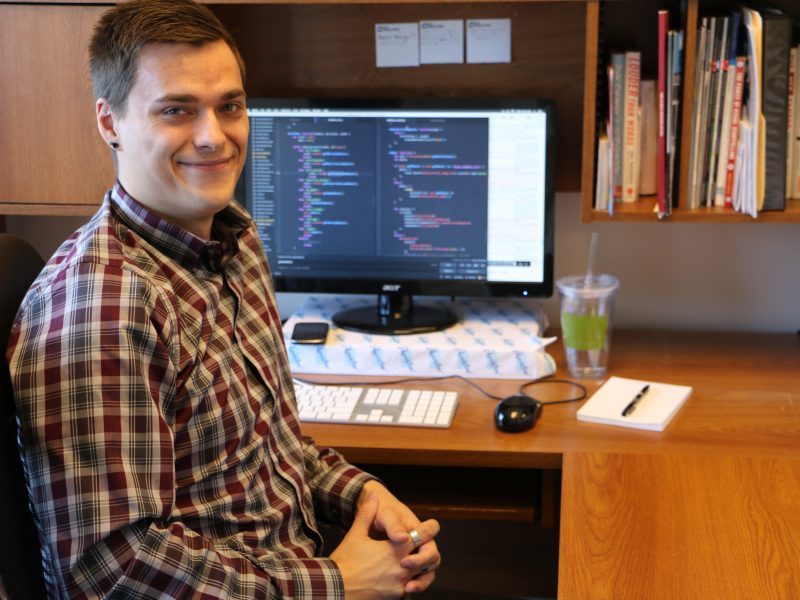 Jeffrey Palmer doesn't play the game, but a new golf app the Bachelor of Computing Science student has been developing this year is helping players enhance their experience by making it easier to book tee times.
Palmer is completing his second co-operative education term as a programmer for Buddie Golf, a local tech start-up with an innovative mobile app allowing golfers to connect with other players and book rounds at 11,000 courses across North America (the app is free on Google Play and the iOS store).
"The highlight for me, working on the app, has been getting extensive iOS experience," Palmer said of his enhanced operating system skills, noting they will be an asset on his resume.
The Buddie Golf concept was hatched by Kamloops entrepreneur Krishna Lakkineni (ROI Media Works) and Palmer's stint as a co-op student has allowed him to gain hands-on experience and learn new skills, complementing knowledge he's gained in the classroom.
"I didn't know what I would be working on when I was hired. It doesn't matter that I don't play golf, I came here to get experience and that's what I got," said Palmer, who will be returning to classes this fall after eight months (two co-op terms) with Buddie Golf.
Meanwhile, Lakkineni says he values hiring co-op students as "aspiring graduates, able to work on real projects to test their skills and learn through practical experience."
Lakkineni adds the synergy between the university and the city's tech scene helps both with fostering local ideas and hiring students—referring to mentorship he received from individuals at Kamloops Innovation Centre (KIC) including Dr. Lincoln Smith, TRU's director of research partnerships and creative enterprise and executive director at KIC.
KIC not only provided Lakkineni with advice on developing Buddie Golf, but helped him secure a BC Tech Co-op Grant—funding available through the BC Innovation Council and the BC Innovators Skills Initiative to be used toward training co-op students and subsidizing their salary.
KIC has also supported Lakkineni's recent nomination for an award from Startup Canada, with KIC's John Zubak calling him "an exceptional example of Canada's innovative entrepreneurial spirit."
With the golf season in full swing and the app in beta mode, Palmer will be spending the remainder of his time with Buddie Golf translating user feedback into programming tweaks, before returning to campus in September.
For more information:
[email protected]
More Campus Life - Kamloops articles
The views expressed are strictly those of the author and not necessarily those of Castanet. Castanet presents its columns "as is" and does not warrant the contents.
Previous Stories