Campus Life - Kamloops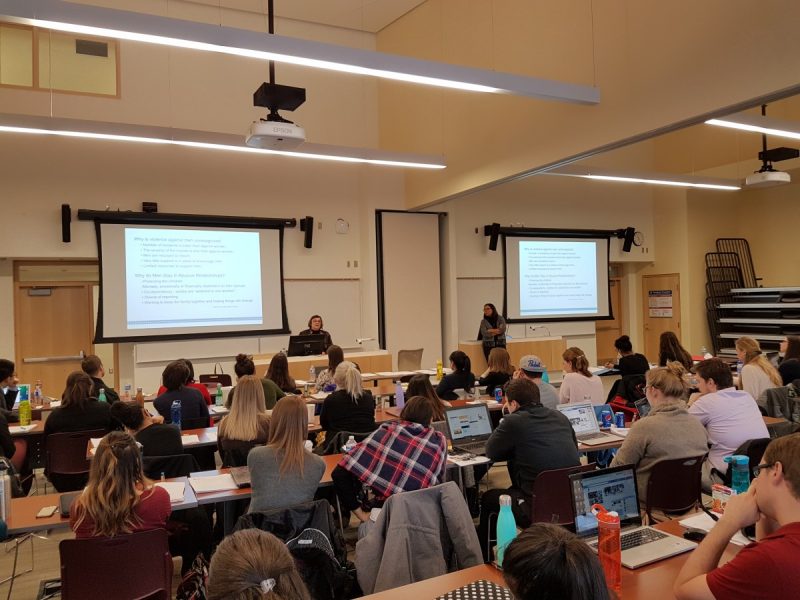 Sixty TRU Law students recently received some extracurricular training in family violence screening, learning about the characteristics of family violence and the potential impact on clients and their cases.
A one-day family violence screening course was held at TRU Law on Saturday, March 11. Students were keen to add these additional skills to their repertoire.
"The workshop combined theory and practical skills; for example we discussed that psychological abuse is harder to identify in clients. We learned to build rapport with the client and discuss safety planning with them," said Sunny Chiu, a second-year student from Vancouver who attended the workshop.
The workshop was unique because while it is available through the Continuing Legal Education Society of BC (CLEBC), it was delivered exclusively to a group of law students at TRU.
"I'm so glad to receive this training as a student. This summer I am going to be working for MacLean Law, a family law firm in Vancouver, and I can now apply these skills during my time there and in the future," said Chiu.
Third-year student Emily Raven spearheaded the event, inspired by her articling principal, mediator Carol Hickman, QC, of West Coast ADR in New Westminster, BC.
"The BC Coroner's office screens for signs of domestic violence in every file involving the review of a homicide if the victim is female. However, if a woman attends at a lawyer's office to transfer her property to her husband, few questions are asked," Raven explained.
"Why is that? It's important for us as future lawyers to understand how power imbalances may be at play. By screening for family violence, legal professionals can make a difference in the lives of people who experience abuse at the hands of intimate partners," she said.
Raven brought her idea to the student-led Women in Law Club, and she and co-organizer Brianna Meyer set about facilitating the event.
"We were both interested in the sexual violence policy consultations happening (at the post-secondary level)," said Meyer, who will be articling at the BC Ministry of Justice Legal Services Branch in Victoria, BC.
"That's how the conversation started. There is talk in Canada that this course should be mandatory for everyone in the legal profession. We thought, why not students too?"
With support from TRU Law to cover costs, the pair brought Hickman—Raven's principal who is also a certified family violence screening trainer—to Kamloops, to lead the workshop.
They also had a little help from Raven's mom, too—Judge Rose Raven of the BC Provincial Court, that is. Recognizing the usefulness of the course, the senior Raven offered to assist Hickman with delivering the course to her daughter's classmates.
An added advantage for students was the cost savings. Through CLEBC, the course costs approximately $1000, while the students were only charged five dollars.
With Raven and Meyer graduating this spring, they hope they've laid some groundwork for the event to continue next year with new organizers.
"We wanted to see what the interest was for this. We sold out the event to 60 students in about an hour. So next year I think it would be a no-brainer," said Meyer. What can you learn in 180 seconds? You'd be surprised.
As part of TRU's annual Research Week, faculty go head-to-head in the first ever 180-second Research Challenge (180sRC), competing to share their research in a compelling way — and to win prizes and bragging rights, of course.
Modelled after the internationally renowned Three Minute Thesis (3MT) competition, the goal is identical: Deliver a compelling presentation of research to a non-specialist audience — in 180 seconds or less — using only a single static slide.
The event is coordinated by TRU's Faculty Research Mentors, Cindy James, Ginny Ratsoy and Amie Schellenberg.
"We were looking for innovative ways to showcase faculty research, and we thought mimicking the 3MT would be a perfect way to do that," said James.
Asked whether it'll be tough for faculty to reduce their research into such a tight timeframe, James laughed: "Most of the time we get between 15-90 minutes to give a presentation, so 180 seconds will be a challenge for sure, but that's also why it will be so much fun."
Making it even more fun, she said, is the fact that the winners of the morning 3MT competition will judge the faculty presentations. The audience members will also have an opportunity to vote for People's Choice.
Schedule of presentations:
Wilson Bell, "44 Lenin Avenue: Siberia's 2oth century history as told through its most remarkable building."
Nina Johnson, "The Wellness 180: The Labyrinth is a Mindful Path to Low-Stress Learning."
Soumya Ghosh, "White Nose Syndrome – killer of bats"
Monica Sanchez-Flores, "Mindfulness and Complex Identities in Equity Training."
Oleksandr Kondrashov, "Welcome to Kamloops: Help for newcomers is a course away."
Naowarat Cheeptham, "Drugs from the dark?"
Michael Woloszyn, "Online dating preferences: what women want, and what men think they want."
Patrick Walton, "Online Indigenous University Student Supports, Barriers, and Learning Preferences."
Karl Larsen, "Just how old is a snake?"
George M. Johnson, "Making Mockus."
Derek Cook, "Belief systems and ego defense mechanisms."
Matt Reudink, "As the songbird flies: using smart bird feeders to track and visualize bird movements."
Bruce Baugh, "Off the beaten track."
Date: March 29, 2017
Time: 2:30 – 4 p.m.
Location: Modo Lounge, Culinary Arts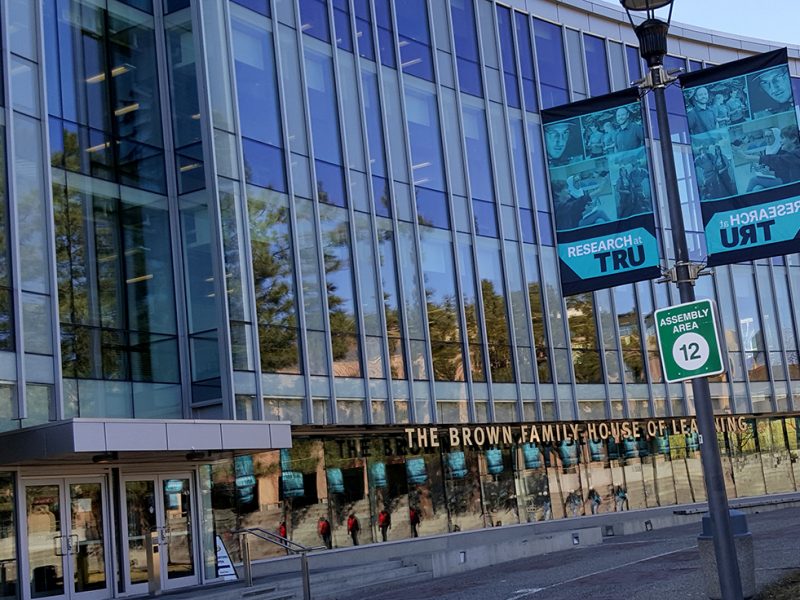 Research Week at TRU is officially in full swing.
Now in its second year, Research Week is a celebration of TRU's growing research capacity.
"This really is a chance for the community at TRU to celebrate and share the wonderful research that's being conducted by faculty and students," said Dr. Will Garrett-Petts, Associate Vice President of Research and Graduate Studies.
It's also an opportunity for professional development. A variety of workshops are being held on campus throughout the week, covering everything from media skills to managing research contracts and grants.
For the first time, events extend off campus as well, during Tuesday's Research is for Everyone event, co-hosted by the United Way Thompson Nicola Cariboo, TRU and The Grind Coffeehouse. Everyone is welcome to participate in the event which features presentations by TRU researchers who are actively engaged in community-based research.
Highlights of the week include:
Distinguished Researcher Series: On Tuesday, join Drs. Terry Kading, Tina Block and Dawn Farough as they present Leadership and Learning in the Small City. On Friday, join Drs. Shelley Johnson, Courtney Mason and Heather Price as they present Issues in Community-Based Research: Challenges and Expectations.
Three Minute Thesis (3MT)  finals: This challenges thesis-based graduate students to deliver a compelling presentation of their research in three minutes or less to a non-specialist audience
NEW! 180-second Research Challenge: faculty compete to share their research in 180-seconds or less, and will be judged by the winners of the 3MT competition
Graduate Research Symposium: Designed to develop interdisciplinary collaborations within TRU's graduate programs, this event is coordinated by TRU's Graduate Student Research Mentors and features a keynote by UBC's Elizabeth Dunn, author of Happy Money: The Science of Happier Spending
Research Week Keynote with Dr. Jenny Shanahan: The Director of Undergraduate Research at Bridgewater State University will outline the value of High Impact Practices and the importance of including these practices in general education requirements, especially in the first and second year of studies
Undergraduate Research & Innovation Conference: The 12th annual conference features the amazing work being done by TRU's student researchers. Poster and oral presentations take place throughout the two-day event, and everyone is encouraged to attend and show their support
More information
Research & Graduate Studies
250-371-5586
[email protected]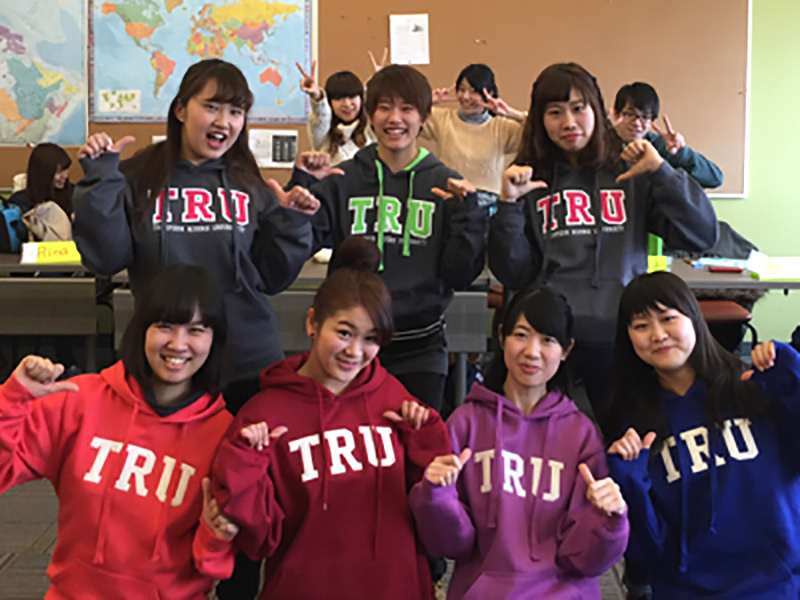 The partnership between Bunkyo Gakuin University (BGU) and TRU's psychology department continues to blossom.
In mid-November 2016, Arts faculty members Sandra Vermeulen and Michael Woloszyn were invited to present their research to students and faculty members at BGU. This visit followed a long-standing program partnership between the TRU psychology department, TRU World and BGU's psychology department.
During their visit, Vermeulen and Woloszyn assisted BGU students in an upper-level psychology methodology to develop the students' projects.
During the presentation, students were interested, engaged and asked many thoughtful questions, thanks in large part to BGU faculty members, who took the time to translate Vermeulen and Woloszyn's PowerPoint slides into Japanese and were on hand during the presentation to spell out some of its more challenging parts.
As guests of Bunkyo Gakuin, Vermeulen and Woloszyn met with psychology faculty members and visited their laboratories.
"I found that some of the students were inspired by our research and past talks in development of their own research projects," said Vermeulen.
This was evident during BGU's research methods classes.
"We were very impressed with their students' and faculty members' research programs. Professor Junichiro Murai discussed his research on the relationship of perceived deception and appearance with us," Vermeulen added. "This research had synergies with our areas of research—I'm interested in criminal thinking, so the deception aspect was appealing."
For the past 12 years, BGU students have been visiting TRU annually, as part of a TRU World short-stay program. Both Woloszyn and Vermeulen have taught visiting students for the past 12 years, along with other TRU psychology faculty members.
"The students that visit from Bunkyo have a real enthusiasm and make a serious effort to follow along. They ask very good questions and seem to enjoy the experience of visiting our part of the world," said Woloszyn.

Vermeulen has assisted with the planning and organizing of the TRU psychology portion of this program ever since BGU first proposed it more than 13 years ago.
"Bunkyo Gakuin and professor Kobayashi first proposed to us the idea of an English program abroad with a psychology component," said Vermeulen, explaining the origins of the successful partnership.
"It's now a well-respected program at their university—so much so that they were able to secure funding from the Japanese government to support this program."
When the BGU delegates visit, often lasting connections are made with current TRU learners.
"Several of our psychology students have maintained contact and friendships. Several of our students have pursued education at Bunkyo Gakuin and/or TESL programs in Tokyo as a result of meeting," added Vermeulen.
"Teaching these visiting students reminds me to ensure that I engage international students in my TRU classes."
TRU psychology faculty members have also developed a strong working relationship with the visiting Bunkyo professors.
"This program we have in partnership with TRU is completely unique in Japan because the students are simultaneously learning English and psychology while visiting abroad," said Dr. Takefumi Kobayashi, Chair of the BGU psychology department.
"I sincerely appreciate the substantial contribution of the psychology department and TRU World. Without them, this program would never exist."
Summaries of the research presented at BGU
Dr. Sandra Vermeulen presented "Cognitive Biases in Civil Litigation," in which she examines the possibility that potential jurors may be influenced by an effect called "truthiness."  That is, people may feel an assertion is true without sufficient evidence. Truthiness occurs when people make rapid judgments about the validity of a claim when presented with nonfactual evidence. She in the process of writing it up for dissemination and running another control group but is happy to share its synopsis and findings to interested parties.
Dr. Michael Woloszyn presented "Factors that Impact Female Online Dating Preferences," in which he constructed online dating website profiles in which he orthogonally manipulated four binary factors that females report are important to them in a long-term mate. He asked them to rate each for their willingness to go on a date with that individual. Interesting differences emerged in terms of what females self-report as being key factors influencing their preferences relative to what happened in the experimental situation. Woloszyn is completing the writing portion of the research now and anticipates publishing this spring.
For more information
Sandra Vermeulen
Interim Dean, Faculty of Arts
[email protected]
More Campus Life - Kamloops articles
The views expressed are strictly those of the author and not necessarily those of Castanet. Castanet presents its columns "as is" and does not warrant the contents.
Previous Stories