BC
Photo: Canadian Press
UPDATE: 7:25 p.m.
The Squamish-Lillooet Regional District has updated Castanet saying homes that were previously on the evacuation order have since been taken off and that one address remains in place at 1781 Reid Road.
You can follow the link here to view the map of the area of impact.
At least 10 other properties have had their evacuation orders rescinded.
---
ORIGINAL:
The Squamish-Lillooet Regional District has issued an evacuation order amendment for the Reid Road area near Pemberton.
The Regional District tells Castanet this evacuation order is due to the immediate danger to life safety that's been caused by a landslide hazard at Jason Creek, near Reid Road Electoral Area C.
According to their Twitter page, for evacuation order is in immediate effect for 1781 Reid Road and all other properties attached to the map, which can be found here.
People need to evacuate immediately by heading east on Reid Road, and then south by way of Pemberton Road towards the village of Pemberton.
The Squamish-Lillooet Regional District says people should shut off all gas and electrical appliances, close all windows and doors, close gates but do not lock, gather your family and others if possible, do not take more vehicles than needed, get your critical items (medicine, wallet, etc), and gather your pets in a kennel or leash.
Castanet will update when more information becomes available.
Photo: TJ Watt/Ancient Forest Alliance.
A cedar tree downed in the Nahmint Valley near Port Alberni
Representatives from eight Canadian environmental groups have filed a complaint with Canada's Competition Bureau alleging the country's most popular forestry certification standard has made "false and misleading" claims in an effort to greenwash the country's lumber and wood products.
The environmental law firm Ecojustice filed the 39-page complaint against the Sustainable Forestry Initiative (SFI) on behalf of the eight organizations, including Greenpeace Canada and the David Suzuki Foundation.
By not prescribing that logging meet any definition of "sustainable," the complaint claims the SFI's certification process acts as an industry shield making it appear that a huge share of Canada's forestry operations are doing what they can to protect the environment.
"You go to the Home Depot, and you look at plywood, you're gonna see a stamp that looks like a leaf… with a sustainable forest certification or SFI certified. It's a marketing tool," said Devon Page, executive director of Ecojustice. "They don't actually confirm sustainability."
"There's no audit, there's no on-the-ground outcome."
SFI did not respond to requests to comment and the Competition Bureau has yet to make any determination on the group's claims.
More than 150 million hectares of forest in North America hold an SFI standard, making it the the largest certification system in the world. Roughly 76 per cent of that SFI certified land is in Canada.
"Canada has embraced certification on a scale unseen in any other jurisdiction. So you get the impression that Canada undertakes responsible forestry," Page said.
Jay Malcolm, who as a retired forestry professor at the University of Toronto also submitted the complaint, said under the scheme, the logging industry is not required to protect endangered species like caribou. Instead, they only have to have a program in place that's related in some way, without any measureable outcomes.
"The logging industry is using its own certification system to pass off wood products as carbon-neutral and sustainable," he said in a statement. "But if you look into the details of the standard, there's nothing backing those claims up."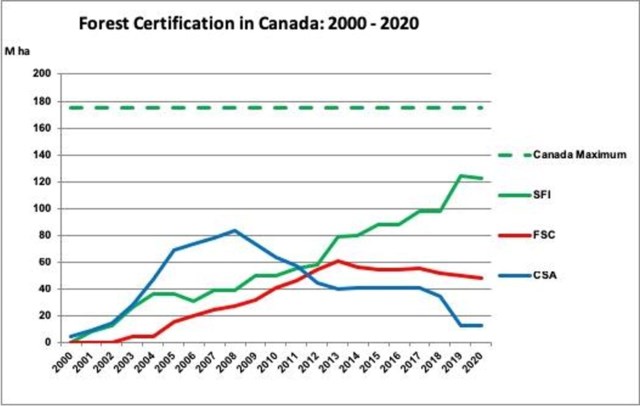 As Canada takes global stage, major forest sustainability standards at risk of being discredited
Page says about 36 per cent of Canada's logging operations are certified, largely through three schemes. The Forest Stewardship Council (FSC) has the strongest mechanisms to ensure compliance, though many have criticized it for failing to live up to its promises.
The other two major schemes, SFI and the Canadian Standards Association (CSA), have been slammed by some as industry tools. CSA already faces a pending Competition Bureau investigation, and if the Competition Bureau rules in favour of the two complaints, Page said it would further discredit most of Canada's claims to running a sustainable forestry industry.
"We all get concerned about logging the Amazon, and people don't realize that a greater scope of logging occurs in Canada. Why?" said Page. "Because of a marketing mechanism and the marketing mechanism is certification."
The marketing of Canadian forest products has been thrown in the spotlight in recent weeks after a letter from Canadian ambassador to the European Union Ailish Campbell was leaked to the media.
The letter, dated Nov. 17 and previously reported on by Politico, raises concerns that EU proposed regulations on deforestation-free products would throw up trade barriers blocking export of Canadian forest products to the continent.
Campbell notes in the letter that Canada shares "the goal of preventing deforestation globally" but fears the proposed rules would add "burdensome traceability requirements" and put at risk $1 billion in forestry and agricultural exports.
Page said the timing of the complaint was on purpose. Next week, just under 200 nations will send delegates to Montreal as Canada hosts the 15th United Nations Conference of the Parties. Also known as Nature COP, members nations are meeting to establish a global framework to protect habitats and ecosystems around the world, and stem a biodiversity crisis that is increasingly worrying scientists.
The Canadian federal government has committed to protecting 30 per cent of its land and ocean by 2030 — the minimum scientists say is needed to halt and reverse biodiversity loss. Canada has made its own calls to the world to follow its national biodiversity targets and put Indigenous guardians at the core of conservation planning.
"Canada does a really good job on the international stage of making promises or broad proclamations about how we take care of our natural environment," said Page. "And either we're lying about that, or we don't fulfill the promises."
The complaint to the Competition Bureau claims SFI's misrepresentations are contributing to unsustainable logging practice both in Canada and across the world on an "immense scale."
It's calling on SFI to pay a $10 million fine and publicly retract claims its certification process ensures sustainable logging. The complaint also request any claims of suggesting its standard is sustainable be scrubbed from its website and other public communications.
A rise in 'greenwashing' allegations
Canada's Competition Bureau is set up to protect and promote competitive business practices across the country. In recent years, it has increasingly taken on cases related to 'greenwashing' — false or misleading environmental claims often advertised to make a company or product appear more sustainable than it really is.
The SFI complaint represents the latest salvo from environmental groups looking to target industries they see as driving climate change and biodiversity loss in Canada.
In September, a group of health professionals filed a complaint against the Canadian Gas Association, alledging the industry group had deployed greenwashing tactics in an advertising campaign that touted gas as an "eco-friendly" fuel. And in October, the Competition Bureau launched an investigation into RBC after a number of individuals, including Kukpi7 Judy Wilson — secretary-treasurer at the Union of BC Indian Chiefs (UBCIC) and chief of the Skat'sin te Secwepemc-Neskonlith Indian Band — filed a complaint calling for RBC to end its financing of fossil fuels and stop "deceiving the public."
The Competition Bureau has signalled it would move to impose harsh penalties on companies it finds guilty of greenwashing.
Earlier this year, the consumer watchdog reached an agreement with Keurig Canada to pay a $3-million penalty after it made false and misleading environmental claims around its coffee pods.
In addition to the $3-million penalty, Keurig Canada was forced to pay for the cost of the bureau's $85,000 investigation and donate $800,000 to a Canadian environmental charity.
The company is no longer permitted to make bogus claims on its packaging, online or in news media.
Photo: pixabay
While many celebrated the province's announcement last week to keep individualized autism funding and pause the introduction of hubs serving all special needs children, others are disappointed.
"David Eby is the Grinch who basically stole my Christmas. He stole the ability that I saw of getting help," said Kutrina Shumuk, a mother to twins with fetal alcohol spectrum disorders (FASD).
Shumuk, along with other families with FASD, has been struggling to get much-needed services such as therapy, speech and language pathology and respite, often having to pay for them out of pocket.
An FASD diagnosis often precludes children from service programs in B.C. communities which require an autism diagnosis, explained Bonnie McBride, president of Inspire Kids, which advocates for children with FASD.
And FASD families face additional stigma and discrimination, said McBride, as "Indigenous moms and moms who come from poverty are questioned about whether or not they drink during their pregnancy, and white affluent mothers are not."
The lack of support has forced Shumuk to make the "hard choice" to give up custody of her son to her ex-husband.
"Because my son's needs are so great that I can't do it without supportive services," she said, adding the experience of being separated has been "traumatic" for her children.
The province's earlier decision to introduce 40 one-stop-shop hubs to support children with various special needs and treat those yet to be diagnosed was opposed by 34 autism-related organizations, who worried the new system was too "generalized" and lacked clarity. They applauded the announcement to reverse it.
McBride, however, said the hub system was "a huge step in the right direction" for underserved communities such as those with FASD as there were no services to begin with.
Shumuk added that the hub system had given her hope that services she had waited "for years" for were within her grasp. And Eby's announcement took it away.
"Things would be so much different (if I had support). I wouldn't have to be on welfare, I'd be able to hold down a full-time job… I'd be able to have my kids in the local community school," she said, adding she faced animosity from some in the autism community for speaking up against the changes.
McBride, whose organization has been working with the province to make support more inclusive, said the main challenge preventing stakeholders from working together is the current diagnosis-based system.
"It's easy for people to feel protective of the service providers and firms that are working for them," she said, but added organizations such as AutismBC have committed to making sure the province's model is inclusive.
Eby also announced the government would develop a new system of support and promised investments to support children with disabilities and underserved needs, such as FASD, but no details were provided.
McBride said it was a "disappointment" Eby's announcement came with "no timelines and no tangible budget" to inform families of what to expect in the next six to 12 months.
"The only acceptable path forward is complete equity for every child in B.C. with a disability that needs support," she said.
Underserved children and families need help now: B.C.'s representative for children and youth
The province's representative for children and youth, Jennifer Charlesworth, issued a statement on Friday to address the decision. Charlesworth showed similar concerns as McBride, stating that she expects to see "a substantive commitment of new funding (to support underserved children) in the forthcoming February 2023 Provincial Budget."
She noted that the issue is "much bigger than sustaining individualized autism funding" as there are more than 8,000 children and families currently excluded from services for children and youth with support needs.
Charlesworth added that the current "exclusionary criteria" of such services "infringes on the rights of those children who do not have the right diagnosis and are left with no supports at all."
She also acknowledged that there were concerns with the hub model rollout, such as the lack of commitment to long-term funding to fill service gaps and the lack of consultation with Indigenous communities.
Although Charlesworth is encouraged that individualized autism is here to stay and supports the province's consultation plans, she emphasized the urgency of helping underserved children and their families.
"Children, youth and their families who are currently receiving no support cannot wait for consultation to occur and frameworks to materialize," she said.
"The current system is inequitable and it is delivered unevenly across B.C. It is also insufficient to meet the current needs, marked by lengthy wait lists for assessments and services and, in some cases, offering no help at all."
Photo: .
'All things considered, B.C. did a pretty remarkable job' -- Public Safety Minister Mike Farnworth
When Canadians found themselves trapped by lockdowns, state of emergency orders and closed borders in the early stages of the COVID-19 pandemic in the spring of 2020, it's fair to say there were worse places to be stuck than B.C.

Other provinces appeared slower to respond and, as a result, had higher infection rates, and ended up responding with much more draconian and longer lasting public health measures and restrictions.

A new report by the ministry of Public Safety finds B.C.'s response to the pandemic was, on the whole, effective, balanced and earned a fairly high degree of public trust.

"I think, for a jurisdiction our size, we had an absolutely enviable record compared to other locations," Minister of Public Safety and Solicitor General Mike Farnworth said in a press conference today, following the release of the report.

"We didn't have to shut down schools the way some of the other provinces did. We had the highest vaccination rates on a per capita rates in the country, the less impacted GDP. All things considered, B.C. did a pretty remarkable job. But are there lessons to be learned? Absolutely. Because you always want to do better."

The review was ordered in March, to see what lessons might be learned from the way B.C. responded to the pandemic. A final report released today includes findings on how the government might do things differently or better, but it makes no hard recommendations.

The review included surveys, with 15,000 responses and 3,000 pages of written comments. The report found there was a fairly high degree of public trust, thanks in no small part to provincial health officer Bonnie Henry, who held daily press briefings in the first few months of the pandemic.

The report acknowledges the "public trust built by the calm and competent daily press conferences led by the provincial health officer."

"We were basing our decisions based on the best public health advice from our provincial health officers," Farnworth said. "By and large, I think our communication was effective."

Public trust did eventually start to wane, however, as British Columbians grew weary of restrictions and changing and sometimes confusing rules.

For example, early on in the pandemic, Henry downplayed the efficacy of masks in reducing the spread of the virus, but then later made mask wearing mandatory.

Generally, though, there was good public buy-in and trust in public health officials, and that the restrictions were not as draconian as they were in some other jurisdictions.

"The data shows that B.C. public health measures were somewhat less restrictive overall and somewhat more stable, that B.C. had the highest increase in program spending, and had a slightly higher vaccination rate than the other jurisdictions," the report concludes.

"In terms of health outcomes, B.C. had slightly lower rates of COVID-19 cases and deaths. From an economic perspective, employment in B.C. recovered to pre-pandemic levels by July 2021, about the same as most other provinces and had the least impact on gross domestic product (GDP) over the pandemic. Overall, this indicates that B.C. did at least as well as the other jurisdictions."

Photo: Chung Chow.
Some COVID-19 patients are sick enough to need to be transported by ambulance
New B.C. government data show more patients in hospital intensive care units (ICUs) with COVID-19 than any other time in the past six months: 38.
Back on June 2, the province counted 41 such patients.
The province's count for the number of people who have tested positive for COVID-19 while in any ward of a hospital in the province has been rising, and is now 369 – up from 328 in the previous two consecutive weeks, and 290 on Nov. 10.
B.C.'s count for COVID-19 hospital patients includes those who are in hospital for non-COVID-19 reasons, and who just happened to test positive for COVID-19. B.C.'s Provincial Health Officer Bonnie Henry said earlier this year that about half of the hospital patients then counted as having COVID-19 were these "incidental" cases. She has said that incidental cases of COVID-19 are far less prominent among those who are in ICUs.
The peak for COVID-19 hospitalizations in B.C. was on Jan. 31, when 1,048 such people were taking up hospital beds. The province has 11,582 total hospital beds, including what it calls surge beds, which can strain the system because they require additional resources. The province changed its method of counting hospitalizations on Jan. 14, so only data after that data is comparable.
The province's weekly death count has not risen in tandem with hospital-related COVID-19 metrics.
Because of a technology glitch, the province released its weekly data today, instead of yesterday. As such, the weekly count for deaths is for eight days, instead of the usual seven. The province counted 26 people who died in the past eight days who had tested positive for COVID-19 within 30 days of their deaths.
This process means that the count could include people who died in car accidents. The province also starts its countdown for that 30-day window when a person first tests positive for COVID-19, and it does not reset that clock for subsequent detected infections, further muddying which deaths were genuinely caused by COVID-19.
In total so far in the pandemic, the province has counted 4,680 COVID-19-related deaths. As has been the case every week since April, when the province changed its system for counting deaths, the number of new weekly deaths has been lower than the number that the province has added to its cumulative COVID-19 death toll.
Henry said in April that after new deaths are announced, the province's Vital Statistics Agency would later determine that some deaths were not due to COVID-19, and that it would remove those deaths from the province's overall death toll. That process would mean that the overall COVID-19 death toll would be rising by less than the number of new weekly deaths – the opposite of what is happening.
Glacier Media has asked B.C.'s Ministry of Health about the continuing disparity but it has not been able to explain why this keeps happening. It has said that data "may be incomplete."
B.C.'s data for new infections is largely seen as inaccurate because most people who contract COVID-19 do not contact B.C. health authorities. Henry late last year told vaccinated people who have mild COVID-19 symptoms to simply self-isolate and not get tested. Her intent was to free up staff time at testing centres, which then endured hours-long line-ups.
Official COVID-19 testing in B.C. is also a shadow of what it once was, although new data for testing in the past week or eight days was not available.
Nonetheless, the B.C. government counted 604 new COVID-19 infections in the seven-day period up to Nov. 26.
That is the most since Oct. 20, when there were 628 new cases counted.
The province no longer reports how many seniors' care homes have active outbreaks.
Photo: Province of BC/Flickr
Three-quarters of B.C.'s 350 government lawyers have submitted union cards, continuing a fight for collective bargaining dated back to 2013.
The BC Government Lawyers Association (BCGLA) advocates for the civil lawyers who represent the provincial government in court, provide it with legal advice and draft provincial legislation.
The association has sent the union cards to the BC Labour Relations Board (LRB) in what it calls a bid to be treated like other government employees.
The BCGLA had hoped that, with the passage of Bill 10 earlier this year (the Labour Relations Code Amendment Act), government lawyers would be entitled to start negotiating their own contract, pay and working conditions like any other union.
But, they say, they are prevented from doing so by a provision of the Public Service Labour Relations Act originally passed in 1973.
"The BCGLA is asking the LRB to say that is a denial of the lawyers' right of freedom of association, as guaranteed by the Charter of Rights and Freedoms," the association said in a statement.
The association said exclusion of government lawyers from collective bargaining is something it has been trying to change since 2013, culminating in a legal action that commenced in 2019, set for hearing in February 2023.
In the meantime, the lawyers complied with the terms of Bill 10 and are submitting the results to the LRB.
"Who we choose to negotiate for us is up to us, no one else. Three-quarters of government lawyers want our association to represent them, not someone the employer chooses," BCGLA president Gareth Morley said.
"Bill 10 has given five million British Columbians the choice to join or create a union, but we remain excluded. Elsewhere in Canada, government lawyers have the right to bargain for themselves, but the B.C. government has refused to allow us to organize, and that's wrong," he said. "We just want to negotiate with our employer just like other government employees."
The association asserts that given it has exceeded the minimum 55 per cent threshold, the LRB should order the government to recognize it and negotiate in good faith.
Instead, the government, which is also the employer in this case, is trying to coerce the lawyers to join a different, unrelated bargaining organization of the employer's own choosing, the BCGLA said.
The BCGLA points out the BC Crown Counsel Association negotiates its own contracts as a bargaining unit with the government. Further, it said, provincial legal aid lawyers in B.C. chose the union representing them.
The Crown association represents 450 Crown counsel employed by the Ministry of Justice's Criminal Justice Branch throughout the province. Since 2000, that association has acted as the sole bargaining agent for all B.C. Crown counsel.
"We're not asking for anything special, we just want the same treatment as the other lawyers who work for government," Morley said.
The government was not immediately available for comment.
Photo: The Canadian Press
Jennifer Charlesworth is seen in Victoria on Monday, Dec.10, 2018. British Columbia's independent children's representative says too many youngsters with special needs are being shortchanged by government support and assistance programs. THE CANADIAN PRESS/Dirk Meissner
British Columbia's independent children's representative says too many youngsters with special needs are being shortchanged by government support and assistance programs.
Jennifer Charlesworth says thousands of children with fetal alcohol spectrum disorder, Down syndrome and a wide range of other neurocognitive developmental needs receive little or no support from the province.
She says families need immediate help and wants Premier David Eby to provide equitable resources to support children with special needs.
Eby recently announced the government will drop its plan to phase out individualized funding for B.C. children diagnosed with autism.
The premier said the decision to keep individualized funding came after recent meetings with parents, caregivers, Indigenous groups, child rights organizations and experts who lobbied the government about losing supports for children.
Charlesworth says maintaining individualized autism funding is vital, but is only one part of a larger issue where a wider range of children also need help.
Photo: Parkland.
On the Run retail gas stations will have two to four EV fast chargers.
Parkland Group (TSX:PKI), which last year announced plans to build out 25 electric vehicle fast charging stations in B.C. and Alberta, now plans to double that by 2024, thanks to $6.8 million in federal and provincial grants.

The company announced Friday it plans to install 50 EV fast-charging stations at its retail gas stations between Victoria and Calgary. Most of the 25 installations that the company announced last year are expected to be installed by the end of this year, with another 25 to be added by early 2024.

Parkland owns more than 1,800 retail gas stations across Canada, including Chevron and On the Run branded gas stations. The fast charger additions will triple the number of fast-charging stations in Metro Vancouver, the company said in a news release.

The 200-kilowatt fast chargers will typically recharge most electric vehicles in 20 to 25 minutes. Parkland said On the Run stations will have two to four fast-charging stations by early 2024.

Parkland is receiving $5 million from Natural Resources Canada to help Parkland double the number of charging stations it had planned to install between Victoria and Calgary. Another $1.8 million is coming from the provincial government.

"With support from NRCan and the Government of British Columbia, we are doubling the size of our previously announced ultra-fast network, from 25 to 50 locations," said Darren Smart, Parkland's senior vice president of energy transition. "Our network will help eliminate range anxiety for EV drivers and by offering high-quality convenience and food choices, we aim to deliver industry leading customer amenities and experiences."

"We're making electric vehicles more affordable and charging more accessible where Canadians live, work and play," said Natural Resources Minister Jonathan Wilkinson.

"B.C. is leading North America in the uptake of zero emission vehicles and is recognized as a global leader in Electric Mobility Canada's 2022 report ranking provinces on the ease of going electric in a time of climate crisis and gas price inflation," said Bruce Ralston, B.C. minister of Energy, Mines and Low Carbon Innovation.

"As of September, EVs made up 17.5% of new light-duty passenger vehicles sold this year in British Columbia."
Photo: The Canadian Press
The Real Estate Board of Greater Vancouver says the typically slow conditions it sees in November were even more sluggish last month as home sales dropped 53 per cent from a year ago and 15 per cent from October.
The B.C. board says sales in the region totalled 1,614 last month and were 36.9 per cent below the 10-year November sales average.
The board warned such conditions could persist as inflation remains stubbornly high and further interest rates are expected, encouraging people to forego home purchases over the holidays.
Those that were in search of properties last month found only 3,055 new listings, a 22.9 per cent fall from November 2021 and a 24.2 per cent drop from October 2022.
The composite benchmark price in the region sat at $1,131,600 last month, a less than one per cent decrease from November 2021 and a 1.5 per cent drop from October 2022.
The number also amounts to a 10.2 per cent decrease over the last six months.
Photo: The Canadian Press
Snow-covered houses and the downtown skyline in Vancouver, Wednesday.
UPDATE: 9:50 a.m.
Residents of coastal British Columbia are facing another day of winter-like conditions and frigid temperatures as the latest weather system brushes across the province.
Snowfall warnings are posted for eastern and inland Vancouver Island, with accumulations of up to 15 centimetres before the storm eases Saturday.
A high pressure system over the B.C. Interior is continuing to push icy air out to the coast, prompting Arctic outflow warnings for the north and central coasts, Fraser Valley and Whistler as wind chill values make it feel as cold as -20 C.
Wind warnings are in place for Greater Victoria and Howe Sound as gusts of up to 90 kilometres per hour are forecast, while special weather statements cover the Fraser Valley, Howe Sound, Sunshine Coast, southern Gulf Islands and Metro Vancouver.
A dusting of snow, no more than five centimetres, is expected in those regions, potentially creating challenges for the afternoon commute, but Environment Canada predicts "significantly less" impact than Tuesday night's storm.
Peace River residents in northeastern B.C., were still shivering through an extreme cold warning that also covered Yoho and Kootenay parks in the southeast and most of Alberta, but the weather office says wind chill values of -40 C early in the day were expected to ease to about -27 C by Saturday.
---
ORIGINAL: 6:25 a.m.
A high-pressure system over British Columbia is pushing Arctic air and bitter cold to some areas of the province, but heavy snow is no longer in the forecast.
Environment Canada has been forecasting for days that B.C.'s south coast and parts of Vancouver Island could get more snow, but that warning has been lifted with the expectation the system will pass south of Vancouver Island.
However, a series of Arctic outflow and extreme cold warnings remain in place, including a forecast of wind chill values to -40 C for the Peace River region.
Arctic outflows are also expected in the central and northern coast regions, as well as Whistler and the eastern Fraser Valley.
Wind chill values could drop to as low as -20 C in those areas before temperatures increase later today.
Environment Canada says frostbite and hypothermia can occur within minutes if people don't take precautions outdoors.
Although less snow is in the forecast, the B.C. Transportation Ministry says road maintenance contractors on the Lower Mainland are preparing.
It says snow could fall during the afternoon commute as the sub-zero temperatures rise.
The ministry says crews will be out in full force, treating roads with brine in advance of any precipitation and will be ready to manage accumulations of snow.
Drivers are encouraged to plan ahead, stay off the road if weather conditions worsen, and ensure their vehicles are properly equipped with snow tires.
British Columbia's auto insurer says the number of accident claims made Tuesday, when a major snowstorm hit the south coast, was nearly double that of the same day the week before.
Photo: Prince George Citizen
Prince George will be at the centre of a national discussion on human rights and encampments across Canada.
A case study of Prince George and Moccasin Flats, commissioned by the Office of the Federal Housing Advocate Marie-Josee Hooule, was released Friday during a national webinar.
The case study was written by Joseph Hermer, chair of the sociology department at the University of Toronto, who concluded that the actions by the City of Prince George amount to a "gross violation of the principles embedded in international human rights law."
Prince George is one of three selected case studies presented during the webinar, which focuses on encampments across Canada.
The objective of the discussion is to mobilize knowledge from these research projects to make recommendations to the Federal Housing Advocate.
The case studies look at how regulations of encampments compare with the right to housing and human rights framework as set out in the National Protocol on Homeless Encampments in Canada.
"I take a look specifically at the demolition that occurred on Nov. 17, 2021 but also the general climate around mostly unhoused, mostly Indigenous people in Prince George, including the Safe Streets Bylaw," explains Hermer.
Prince George adopted the controversial Safe Streets Bylaw on Aug. 30, 2021, despite opposition from First Nations leadership and local service providers.
The bylaw enables bylaw officers to ticket for a number of "nuisance" behaviours like panhandling, using drugs or lying down and obstructing a doorway.
The case study also examines the court battles surrounding the city's efforts to close the Moccasin Flats encampment on Lower Patricia Boulevard, and how the city inflicted serious harm on vulnerable people when it dismantled structures on Nov. 17, 2021 in violation of an existing court order.
"What I found, in almost every way, is that the city of Prince George violated the humanity and the dignity of the encampment residents, by specifically carrying out forced eviction, and more generally, the way in which the city has chosen to carry out the bylaw."
Hermer has studied vagrancy laws in England, Scotland, across the United States and specifically looked at municipal bylaws in Canada and said Prince George is one of the worst examples he's seen of how a city treats its unhoused population.
"I don't think I've ever seen a city that seems to be so determined to do the wrong things," said Hermer. "There are no perfect solutions or magic bullet, but there are communities who have at least recognized that the solution to the problem is not fundamentally an enforcement one, and they've tried different things."
Hermer says one of the driving factors to the formation of encampments in the city is the Safe Streets Bylaw.
"If the city had listened to encampment residents, they would know this," said Hermer. He explained the bylaw in the daytime make it practically impossible for unhoused people to exist because it is enforced too broadly, and people are continually "moved on" to different places.
"Strangely enough the city has created the circumstances by which the encampments have been viewed to be necessary by unhoused people. It is not about sleeping overnight, it is about their existence in public spaces."
In March, Hermer and the BC Assembly of First Nations also published two reports, which raised concerns regarding the bylaw.
His research indicated the bylaw is being applied informally in a crude and punitive way that increases the suffering of unsheltered people.
Hermer said that the situation is going to become much worse and the solutions will become more complicated unless drastic action is taken, adding that he thinks Mayor Simon Yu and city council should put forward a resolution that there should be a moratorium on the enforcement of the Safe Streets Bylaw.
"That is the very least you could do to reverse course on a situation that is only going to worsen."
Hermer said it's important that Prince George is included as a case study in this national discussion, not only because it has been a closely watched case, but also because the city is a northern community with different challenges and needs.
"It's not just about big cities and it is not just about Toronto. It's about people that live in northern rural areas and in some cases, about very vulnerable populations such northern Indigenous unhoused people, to make sure that they're included as part of the analysis."
Photo: Google Street View
An incident in which a patient complaining of chest pain collapsed at the ­registration desk at Port Hardy Hospital while the emergency department was closed last week raised jurisdictional questions and bolstered calls to consolidate Port McNeill and Port Hardy emergency ­staffing.
"We need to significantly pivot our operations immediately, in order to provide safe predictable care for our patients and a reliable place for our health-care providers to practice," wrote Dr. Nicole Bennett-Boutilier, medical director for Mt. Waddington-Strathcona, in a Nov. 27 email to Island Health president Kathy MacNeil.
In the email, obtained by the Times Colonist, Bennett-Boutilier notes the Nov. 25 case of a patient collapsing outside the closed ER follows two previous cases where there was confusion about what to do during such a closure prior to an ambulance showing up.
In one case, health-care providers at Cormorant Island Hospital in Alert Bay rushed to help and in another case in Port Hardy, they did not. In an email sent Nov. 26 about the latest incident, physician lead Dr. Jessica Macleod said staff called 911 but the B.C. Ambulance Service said a crew from Port McNeill, 43 kilometres away, would need to pick up the patient.
Meanwhile, a nurse helped the patient onto a stretcher and obtained his vital signs. When no ambulance arrived "after some delay," Macleod said in the email, she called B.C. Ambulance Service again.
"It was reported to me by BCAS that as soon as health-care staff intervened, the hospital was considered to have 'taken control of the patient,' " she said. Extra steps would now need to be taken to make a hospital-to-hospital ambulance transfer, she was told. "This obviously raises the question of what to do with a patient in medical distress who presents during a hard closure," said Macleod. "In my opinion, the safer and more logical solution is for BCAS to simply take the patient to the nearest open ER, regardless of initial assistance provided on scene."
Macleod said she was told by a representative of B.C. Emergency Health Services that it would typically treat such a call for service like any other call. He committed to get answers "to ensure it does not happen again."
In her message to Island Health, ­Bennett-Boutilier said the "stickhandling" of maintaining operations during ongoing closures and skeletal staffing has become too much. "These efforts are coming at a great cost to an already grossly extended health-care team," wrote Bennett-Boutilier.
Port McNeill and Port Hardy hospitals have been crippled by doctor and nurse shortages, often closing their ER departments on alternating weekends since the spring. The hiring of two new physicians in Port McNeill eased shortages there, but Port Hardy's ER has lost physicians, resulting in increasing closures, most recently on Wednesday.
Emergency Health Services crews are doing back-to-back transfers, lab technicians "are being pulled in multiple directions," nurses are calling in sick frequently and not wanting to pick up extra shifts, and physicians are suffering from mental and physical fatigue, wrote Bennett-Boutilier in her email, which was copied to Doctors of B.C., B.C. Emergency Health Services and North Island physicians. Bennett-Boutilier said consolidation of emergency services remains key. "Until we do so we continue to place our patients and ourselves at risk."
If Port Hardy and Port McNeill teams are consolidated, local leadership can "adapt our operations into a much safer, predictable and sustainable way," she said, asking for immediate action. "There are simply not enough of us, to do what is being asked."
In response to a request for comment on the Nov. 25 incident, Island Health said it will review the incident "to fully understand what happened and to inform future process improvements." It said the health authority and B.C. Emergency Health Services have clarified processes to ensure a similar situation does not happen again. "BCEHS has confirmed that any calls for service that originate from area hospitals that are closed at that time will be treated as a pre-hospital call, ensuring an urgent response by an ambulance to transport the patient to the nearest open emergency department."
The health authority acknowledged that recent closures have "created confusion" for people living in the region, and for health-care workers. It said it's working on strategies to create short-term stability and predictability to service delivery in the region, noting it recently took part in a health summit "to learn more about the needs of all involved."
More BC News